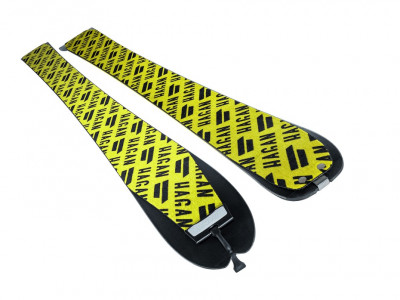 Hagan Mohair Mix Skins
1 review
Save yourself the effort of trimming skins by tricking out your Hagan skis with some functional and stylish precut climbing skins. These 65% mohair / 35% nylon blend skins offer a great combination of grip, glide, and durability while sporting unique color-designs. With tip and tail attachments that work flawlessly in the notches on non-race Hagans, these custom tailored skis give you the perfect edge exposure along the full length of your skis.
Pre-cut to the specific sidecut of Hagan skis with a couple millimeters of edge exposure.
Made with the ratio of 65% mohair to 35% nylon for an optimum blend of traction and glide.
Dynafit-style tip and tail attachments pop on and off your skis quickly.
Cool patterns add a little flavor to the bottom of your skis.
Junior length skins for the Ride Jr skis are colored green.
Note the tip attachments for the "Ultra" and "Y" series skis (Ultra 76, Y-Drive, Y-Flow, Y-Boost, Y-King) are rubber rip sticks. These slot into the tip notch and are designed to be ripped off from there. The tail is a simple metal clasp.
For the Ultra skis, also see the mohair version.
Questions & Reviews
downright abused is an understatement. Been around the world climbing on dirt, rocks, trees, ice, some snow, and everything in between with these guys. They have kept me moving up and always asked for more. Still sticky, still stretchy. They have my favorite tip/tail attachments of any skin I've ever used. glide very nicely and still get me up the steepest wasatch skin tracks. Love them and hope they last another forever.
Comment on this review:


Earn store credit by writing reviews. Learn more.

Model: Precut Climbing Skin