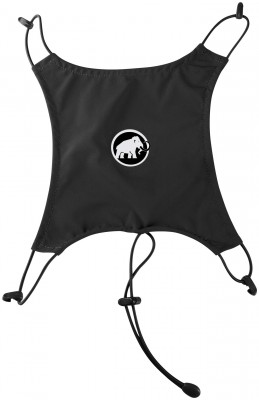 Mammut Helmet Holder
2 reviews
$13.95
In Stock & Ships Today
You just picked the perfect pack for light and fast strikes in the mountains, but now you can't fit your helmet! The easy solution is Mammut's helmet holder. 4 stretchable loops can be fastened around attachment points on the back of your pack and will fit most configurations. Leave room for a puffy, thermos and travel sized Scrabble board in your pack by conveniently placing your brain bucket on the outside. Never feel limited again by an efficient pack size with your Helmet Holder from Mammut.
Stretchy material fits over most touring helmets (may not work with traditional alpine helmets).
4 elastic loops are versatile and can be wrapped around attachment points on your pack.
Saves room in your pack for other essential gear so you can shave grams with a smaller satchel.
Questions & Reviews
What is the physical size?
Hi Steve! Unstretched, it measured 21cm x 21cm. Thanks!
Answer this question:


I've loved mine for the past two years; sleek, functional, lightweight, and looks good even when the helmet isn't stowed. The one I bought was missing it's clips (manufacturing error) and at the time there were no more in stock, and skimo co kindly refunded me, and I used the refund money to buy some mini carabiners and I make it work. Or my wife does - we fight over who gets it each outing. Now that it's back in stock it's time to get a second and end the fights! :D
Comment on this review:


It took me a while to figure out how to best attach this to my pack, but once I did, it was a game changer. No more excuses for not bringing the brain bucket. Get one so you can protect your noggin'
Comment on this review:


Earn store credit by writing reviews. Learn more.

Model: Helmet Holder