Will M
Gender
Male
Height
6' 0"
Weight
165 lbs
Shoe Size
US 10.50
Skier Type
Type III - Aggressive
Ski Frequency:
100+ days / year
My Skiing
Skied all across the US. Powder skiing is fun 50% of the time, but I'm a big steep skiing fan. Currently attempting to become an IFMGA Mountain Guide.
My Gear
Current weapons: Black Crows Orb & Navis Freebird, Salomon Summit 79, K2 Prototype skis.

Current boots: Scarpa F1 LT & Tecnica Zero G Tour Pro.
Recent Posts
Hey Felix, Great question! The DNA will be stiffer than the Mezzalama due to the carbon cuff. But that being said, the Mezzalama is no slouch and will still ski quite well for a boot in this weight class.
Hey David, I think the best course of action would be to go for R01 -30mm adjustment plate. 30mm should be plenty of room to accommodate two boots, however, you can double-check the difference between the boot sole lengths (BSL). The measurement should be in millimeters and found close to the heel of the boot and if the difference is less than 30mm, you should be good to go.
Hey Dave, Thanks for reaching out! I think the Zero G 95 would be a good step towards the stiffer end of the spectrum. For somebody with your dimensions, I'd push you more towards the 171cm. I feel as if a 178cm would be a bit long for a daily driver touring ski. The 171cm will allow for all types of terrain from open meadows to tight couloirs. Plus, it'll be a bit lighter. As always, feel free to reach out to help@skimo.co if you have any further questions.
Hey Deling, Great question, I think the 100mm would be a precise fit as the tail of the ski measures in at 99.5mm. If that's a bit too close for comfort, then I'd suggest going for the 120mm as that'll provide a bit more wiggle room for the cutting of the skin.
This is a wonderful addition to any backcountry skier's library. It's chalked full of helpful info and trade secrets to the seeming subtle tricks of moving in the mountains. It can be a little dense for the novice but great for intermediate and up (think 30+ days a year). I'm pursuing my AMGA Ski Guide certification and this was/incredibly helpful to prep for my courses & exams.
Trip Reports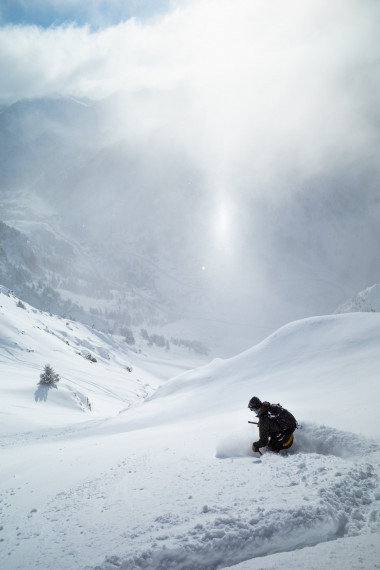 Mt Superior - South Face
Myself and a few of the other Skimo Co employees admittedly woke up on the wrong side of 6am after a dump of around 20". We parked up at Alta and began the journey on the ridge. In front of us wasn't a confidence-inspiring sight. By my best guess, I'd bet roughly twenty-five people were in...