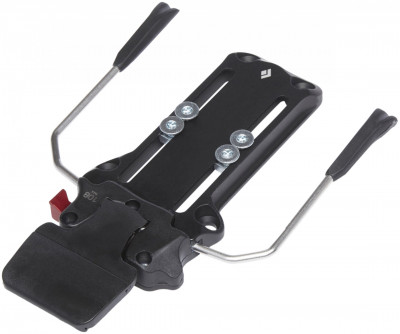 Black Diamond Helio Brakes
1 review
Sometimes we all just need a break and sometimes we all just need some brakes. If you picked up a set of Black Diamond Helio bindings, you can accessorize! Works with any Helio binding as well as some Hagan and other ATK bindings. You can fit just about any ski with a wide range of width options that include 86mm, 97mm, 108mm and 120mm. These brakes are attached to an adjustment track on which the heel piece is mounted. Switching between ski and walk mode is easily done with the push of a button on the side of the brake. An optional ski crampon attachment is also included. In hardpack conditions, you may not want to slow down, but your skis should if they do get free. Add some peace of mind by adding a set of Black Diamond Helio brakes to your setup. 96 grams per side [97mm].
Note: The hole pattern of the brake plate is slightly wider than the Helio adjustment plate.
Questions & Reviews
How do I find the mounting pattern for this brake? I can't seem to find it anywhere.

Thanks!
Thanks for your question, Jacob. These brakes share the same mounting pattern as the heel of the Hagan Pure binding, which is 45/25 x 60. For information on mounting patterns, please refer to this
article
. Please let us know if you have any other questions!
Answer this question:


Does the Helio Ski Brake baseplate share the exact same hole pattern measurements as the Helio Adjustment plate?

I own the Helio 200 binding and want to avoid drilling additional holes if I get this add-on brake. Psyched the two products are compatible...Thank you, SKIMO!
Hey Doug, unfortunately the Helio Ski Brake baseplate does not share the same hole pattern as the regular Helio adjustment plate. You would need to re-drill to make these work.
Ah, too bad. Much appreciated the info though, thank you!
Answer this question:


I used these for the last 2 springs(well really for the season 2 springs ago, I didn't get to ski much this past spring)

I paired them with BD Helio 110 bindings with 91 brake width on Dynastar Vertical Factory skis. I haven't ejected so I can't speak to their efficacy in stopping the ski, but I do appreciate their function when clicking in at the top of a steep line and for general ski are use as well.

After a number of days of use the grease on the metal hook mechanism has worn off and now it fails to lock the brake into skinning mode just by pushing down on the heel pad, I also have to pull the brake arms up to get it to fully engage.

The other things to note are that the adjustment range is less than the other adjustment track, the hole patterns are also different and the stack height is higher as well.

The only reason I am deducting a star is for the difficulty locking it into skinning mode now that I've used it for awhile. I'm hoping a fresh application of grease this season will take care of that.
Comment on this review:


Earn store credit by writing reviews. Learn more.

Model: Helio Binding Brake Kit