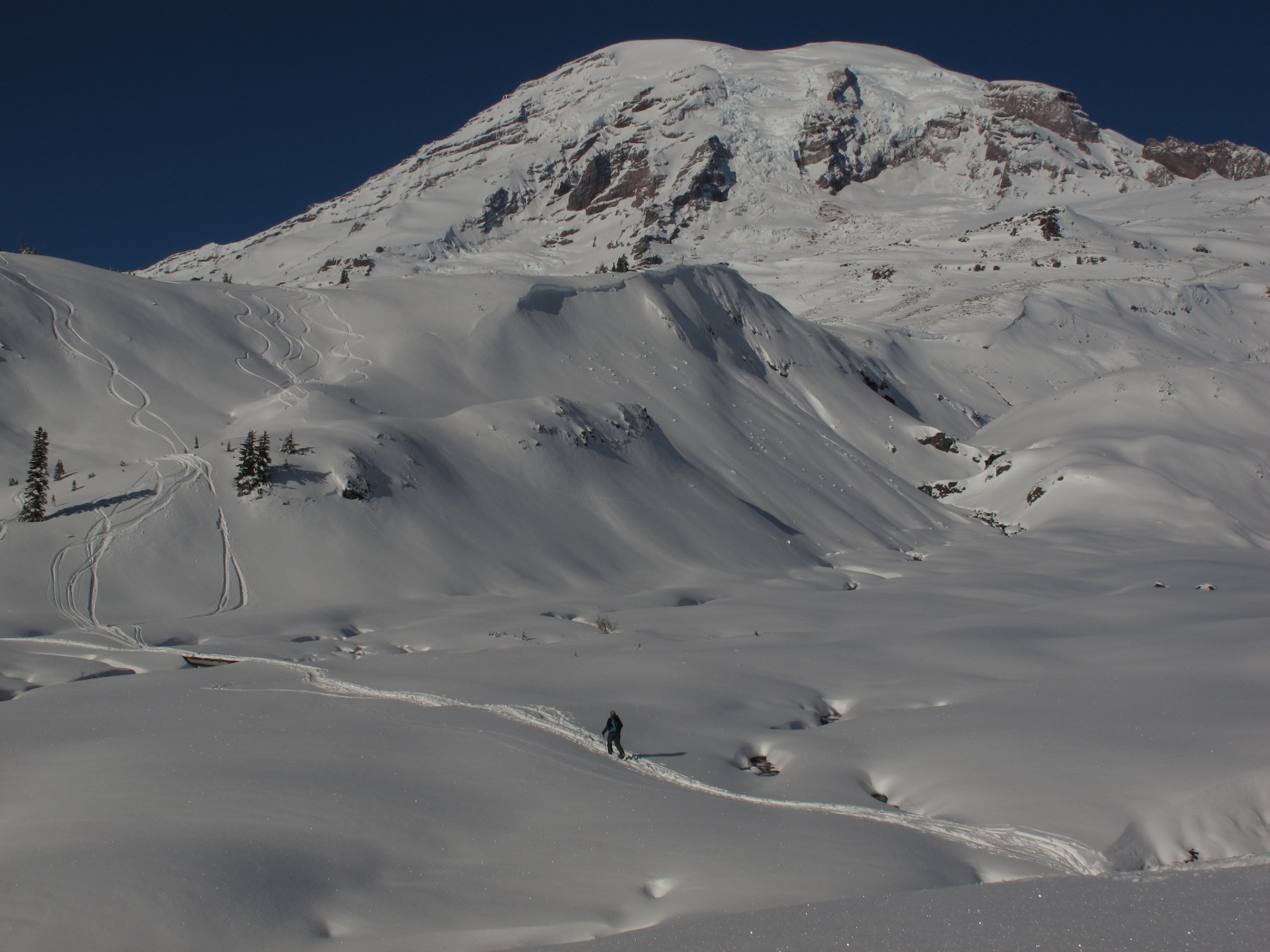 Andy
Gender
Male
Height
5' 8"
Weight
215 lbs
Shoe Size
US 11.00
Skier Type
Type III - Aggressive
Ski Frequency:
50 - 99 days / year
My Skiing
My favority skiing is sub-alpine to alpine touring on Mt. Rainier, skiing down slopes from 35+ (prefering 20-35), including glaciers (Nisqually, Paradise, etc.); I used to ski bc 12 months/yr, now my season is October thru July. I do 10-20 days of lift-served, preferring off-piste, sidecountry, etc. And I do 10 days or so of XC, either 3-pin or AT.
My Gear
TLT6 M; Scarpa F-1; Mercury; Dalbello Panterra 120; Fischer 3-pin boot.
Movement Alp Tracks 100, Vertex-X; Voile Vector BC and V8; Fischer Outtabounds, Motive 93 ti, Ranger 98 ti.
Dynafit Guide Radical, Superlite 2.0; Hagan Core 12; Plum Yak; Marker Kingpin; Voile 3-pin. Tyrolia Attack 13.
Recent Posts
Update: been using the 100s and Vertex-X alternating on our spring snow. While the 100s are fun and almost as light as the Vertex-X, they are a little heavier with skins. I'm finding the Vertex-X are more fun on the frozen, thawing, and corning spring snow because they are so eacy to set an edge with and hold so well. The 100s are better at smearing turns but also seem to want to plow a little more late in the turn in 2-3 inches of warming corn and they seemed to be slowed more by suction in the moister...
Climb Pro S Glides were my go-to skins, but all my pairs eventually kept leaving glue strips across the skis at the point where the skin had been folded. I like my Movement precut skins but the glue was extremely sticky making it a pain to pull the skins apart; these skins also picked up a lot of water out of spring/summer snow and formed ice along the edges--that was cured by applying a waterproof treatment. So I decided to try the Contour Hybrids. Now I have 4 pairs!: on my Movement Vertex-X, Alp Tracks...
The lower fit my 2014 7-Summit pole just fine :-)
Will either of the various carbon lowers fit the Dynafit 7-Summits pole (model with a white/silver upper with grip extension)?
Just a couple of additions. Easiest boot I have had to get into and out of. First boot/liner I've been able to use without laces.