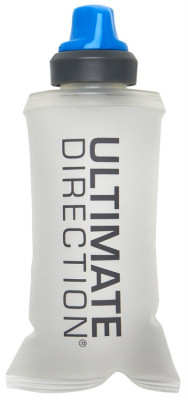 Ultimate Direction Body Bottle 150G
0 reviews
Ultimate Direction's beloved soft flask, this time for gels! After everybody realized the benefits of full-size soft flasks intended for hydration purposes, a startling revelation was made: hydration is cool and all, but no matter how much you drink you will still need calories. And thus, a new way to fuel was born. However, the Body Bottle 150G is much more than just a wee-size version of the Body Bottle, with a completely re-engineered and lockable cap designed to maximize flow so you spend less time choking down calories. The 150ml size is good for up to 5 servings of your favorite gelatinous calories and shrinks down once it's empty. Best of all it doesn't leave gel residue all over your pockets when you're done with it. Clean, efficient, eco-friendly, and it says Ultimate Direction! What's not to like?
Reusable with no lifespan.
Fits into the shoulder or hip pouches of most ski packs.
Skimo Blue Nozzle!
Hint: The "150" is for the 150ml of usable volume and "G" is for gel.
Questions & Reviews
What are the actual dimensions for the flask?
Hey Pat, thanks for reaching out! The flask measures about 16cm x 6cm x 4cm with the cap on!
Answer this question:


Earn store credit by writing reviews. Learn more.

Model: Body Bottle 150G
UPC: 0054003791724