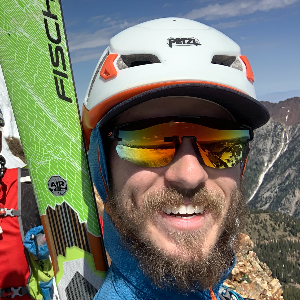 Teddy Young
Gender
Male
Height
5' 8"
Weight
150 lbs
Shoe Size
US 8.00
Skier Type
Type II - Moderate
Ski Frequency:
N/A
Recent Posts
Hey y'all! I busted out the calipers and scale, here are some more numbers for you. rcB1200: 82 g each 3.7V, 2400mAh, 8.88Wh rcB1800: 105g each 3.7V, 3600mAh, 13.32Wh Dimensions seem pretty accurate, thickness might be ~0.5 cm thicker in reality. Batteries weighed without 2.5 g electrical contact cover, proprietary USB-A charging cable weighs 63 g and charges both batteries simultaneously.
Hey Kevin, thanks for the feedback, it's information like this that helps inform what gear we carry in the future and what attributes to prioritize! We've removed the "middle mark" feature from this product description. I can certainly see how it might be a bit anxiety-producing to be looking for a faint middle mark during a series of rappels, especially in low-light conditions.
Hey Robert, you are correct! The Shift ski crampons only come in 100mm and 120mm widths, and the unique design means there aren't any great alternatives available. If you are skinning straight uphill or in softer conditions, the excess width may not be too much of an issue. However, when contouring around a steep slope with bulletproof snow/ice, then the excess width could start causing useability and durability issues. If something were to be damaged in that situation, the manufacturer may not approve a ...
Hey Brian, I've added the manufacturer's listed weights onto this listing. Note that we'll update the page with verified weights as soon as we have the skis in hand.
Hey John, glad you've been loving them! If you're looking to use these crampons with approach shoes or trail runners, you'll need the Flexible Heel Piece available on our Petzl Crampon Binding Parts page. Also, I've yet to have the cord fail on me, but if anyone needs a spare, they're available here!
Wish List