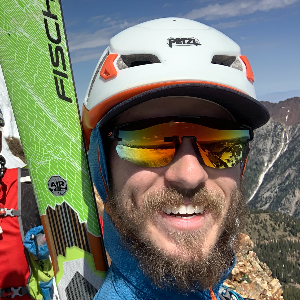 Teddy Young
Gender
Male
Height
5' 8"
Weight
150 lbs
Shoe Size
US 8.00
Skier Type
Type II - Moderate
Ski Frequency:
N/A
Recent Posts
Hey Marlon, ATK seems to be quite precise in their manufacturing tolerances, so I wouldn't expect much wiggle room! The exact width you need will depending on the measured ski width immediately behind the toe, which can change based on BSL and mounting point. I'd recommend going with the Dynafit 110mm or the ATK/Hagan/BD 120mm!
Hey Michael, I'm glad that this info is useful! While I haven't tested this binding/crampon combo in person, I think I've found two videos showing folks using both the original ski crampons and the "Axion" ski crampons on the same or similar bindings. A few notes: - YouTube's auto-translated captions can be really helpful! - The original came in 79mm and 100mm widths, and is discontinued. - The Axion comes in 86mm and 110mm widths, and was designed for later models. - Fritschi does not claim that Axion sk...
Hey Sterling, thankfully, we haven't heard of this being much of an issue! I'd say both the Petzl and the Blue Ice designs require a little intentionality and time for an initial "break-in". You may notice the crampon get a little less snug during the first use or two, especially when the dyneema gets wet. While you can adjust length in the field, it could be nice to break them in at home: dip the dyneema in water, adjust the crampons quite snug, be sure to firmly pull all slack out the dyneema webbing ta...
We don't sell a product for this, but for a creative solution to get full "bite" when using tall riser settings, some folks have opted to use the two holes in the top to use bolts or cord to secure a section of PVC pipe, block of wood, or maybe part of a plastic cutting board!
Hey Joseph, the Dynafit logo you see at the tongue hinge point is actually the head of a large rivet, which is at the bottom of the Hoji Free 130 Tongue Set product image on this page. You'd need a heavy duty rivet press to install that rivet, but you may be able to use Chicago Rivets or t-nuts from the hardware store. We haven't tested what length/diameter hardware would be best, and the aesthetic would be a bit more industrial, but you might get away with not using a rivet press!
Wish List