Zag Skis

Based in Chamonix Mont Blanc, ZAG skis has become a pioneer in skis and ski building. Having an R&D Lab right at the base of Grand Montets gives the designers unlimited opportunities to test and build skis to work in the most extreme terrain in the world. As a bonus, ZAG is committed to reducing its own environmental impact and operates with this in mind.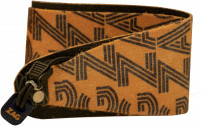 Not in the mood to trim climbing skins? Then scroll to the drop-down menu, select the model and length of ski you own, and click "add to cart." Then, a friendly Skimo Co staff member will ship them to you, and voilà, they are ready to use! It's just that ..
$258.95

Chamonix is home to some of the best steep skiing in the world. But if you're ZAG, it's also home to arguably the best ski R&D facility in the world. It's no wonder then, how they managed to make the Adret 78, a ski that our shop manager and former Sk..
$898.95


There are a few things that are guaranteed in life. Death, gravity, taxes, and the strong performance of the Adret 85. With a similar hard-charging personality as its skinnier sibling, the Adret 85 sports a slightly more rounded (moderate) flex and wider ..
$948.95