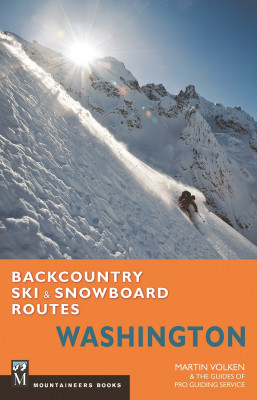 Backcountry Ski & Snowboard Routes - Washington
3 reviews
$24.95
In Stock & Ships Today
Martin Volken, is an IFMGA certified mountain guide and AMGA skimo program examiner from Switzerland, so high altitude snow sports pretty much flow through his blood. Because of his oxygen-rich Swiss mountain blood, it was an eventuality that he would write the comprehensive backcountry guide for his current home state of Washington. Martin expertly breaks down 80 different routes throughout the state so you can easily find the right tour for the day.
Related Products
Questions & Reviews
Excellent guide book written by living legends of cascade ski mountaineering. Ranks all of the routes by both technical difficulty and fitness difficulty, so you can easily find tours to suit your appetite.
Comment on this review:


This is a fantastic reference for skiing in Washington state. Lots of great info on approaches, difficulty, and tips and tricks. I appreciate the variety of routes too—some extreme and a lot of moderate and easy tours. Some classics in this one for sure!
Comment on this review:


Hard to find another book for Washington, so until something else comes out to compare to, worth 5 stars. Includes key areas in all parts of the Cascades, with many practical and dream routes. As with all Mountaineers books, graphics could be modernized, but at least its a standard format.
Comment on this review:


Earn store credit by writing reviews. Learn more.

UPC: 9781594856563