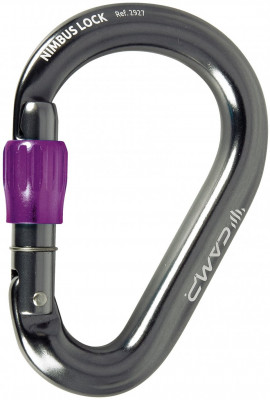 CAMP Nimbus Lock Carabiner
0 reviews
The CAMP Nimbus Lock is a compact, HMS-style carabiner that is well-suited for belaying and rappelling. CAMP was able to slim down a traditional pear-shaped carabiner while keeping the carabiner large enough to still fit a clove or munter hitch, providing versatility for all alpine exploits. The nose features CAMP's SphereLock construction, which prevents it from snagging on webbing or slings. As the cherry on top, the Nimbus is built using smooth stock aluminum alloy, which helps provide extra smooth rappelling and belaying. The Nimbus Lock Carabiner is a light and compact carabiner that excels in alpine environments and is sure to please even the pickiest gear aficionado.
Pear shape situates the carabiner into an ideal position for belaying and rappelling.
SphereLock nose means no snagging the nose of the carabiner on ropes or slings.
Smooth stock construction helps facilitate smooth rappels, which is especially useful in alpine environments.
Laser etchings indicate if the gate is locked or open, allowing you to visually confirm the status of the carabiner.
Specifications
Weight
convert to ounces
69g
Dimensions
101mm x 71mm
Specs Verified
Design
Gate Style
Screw Lock
Major Axis Strength
21 kN
Minor Axis Strength
9 kN
Open Gate Strength
6 kN
Materials
Aluminum Alloy
Skimo Co Says
Usage
Rappelling and belaying
Notes
SphereLock prevents the nose from snagging on webbing and slings
Bottom Line
Versatile carabiner for all things mountaineering
Questions & Reviews
Earn store credit by writing reviews. Learn more.

UPC: 8005436125992