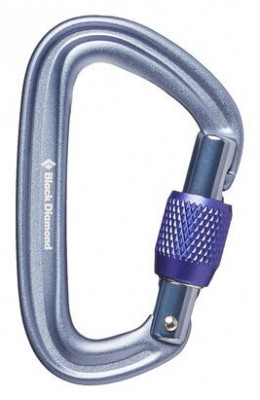 Black Diamond LiteForge Screwgate Carabiner
0 reviews
Black Diamond held no punches when cutting weight for their LiteForge Screwgate Carabiner-- they even removed the unnecessary letters in 'light'. Do you know how serious you have to be about 'light is right' to change the spelling of a word? It's been spelled 'light' since Old English was a commonly spoken language. Those folks over at BD really aren't messing around. Of course, light is right, so who are we to complain when realistically, things are headed where we want them to go? Not us! Durably hot forged, large enough for a clove hitch, and ergonomically shaped to make clipping with one hand easy, the LiteForge Screwgate is just like all your other carabiners, just a few grams lighter. Simple, familiar, and reliable-- the BD LiteForge Screwgate ties durable construction methods to a classic design without weighing much more than a feather.
Fitting into the 'medium' carabiner category, the LiteForge Screwgate suits a wide range of needs.
A keylock nose helps prevent snagging on ropes and slings.
Shaped and sized to accommodate a clove hitch.
Hot-Forged construction keeps things light.
Type B "Basic" locking connector.
Specifications
Weight
convert to ounces
66g
Dimensions
92mmx58mm
Specs Verified
Yes
Design
Gate Style
Straight Screwgate
Major Axis Strength
24 kN
Minor Axis Strength
8 kN
Open Gate Strength
8 kN
Materials
Aluminum Alloy
Skimo Co Says
Usage
Anchor building, general light 'n fast alpinism
Notes
Bottom Line
An ultra-light keylock screwgate
Compare to other Carabiners
Questions & Reviews
Earn store credit by writing reviews. Learn more.

Model: Liteforge Screwgate