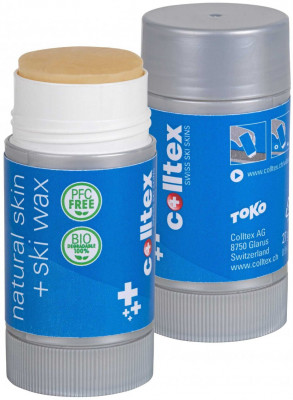 Colltex Natural Skin and Ski Wax
0 reviews
When it comes to Mother Nature and Old Man Winter, we need to respect our elders. Using the Natural Skin and Ski wax from Colltex is one way to do that. This formula is both PFC free as well as biodegradable so you can pick up some speed without leaving behind unwanted chemicals in our beautiful world. Meant to completely cover your needs you can add this to your ski bases or skins by simply rubbing on and hitting the backcountry. When applying to ski bases best practice is to rub off excess product with a cloth, but in a pinch, you can just go for it! At its size you can easily bring along in a jacket pocket or backpack to refresh skins for the up and skis for the down when needed. The screw top cap is secure to keep you from spreading this anywhere unwanted. Once you have used it all up because you like it so much, the environmental love continues as the packaging is recyclable. Head out on every tour with a clear conscience and plenty of speed with Colltex's Natural Skin and Ski wax.
Works on both your ski bases and skins to keep you flying up and down hill.
PFC Free and biodegradable to help us keep our environment as clean as we found it.
Packable size can fit in a pocket for quick application when you need it.
Packaging is recyclable when it comes time to replace to keep the good times going.
Screw cap is secure to keep this wax from spreading where it is not wanted.
Questions & Reviews
Earn store credit by writing reviews. Learn more.

Model: Natural Skin and Ski Wax
UPC: 7611818116130