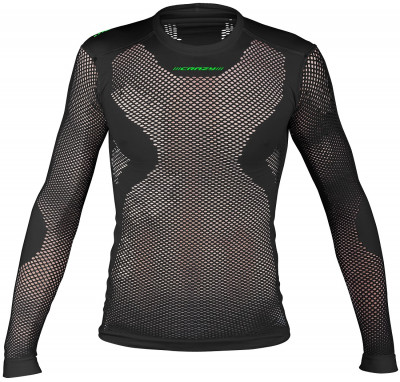 Crazy Idea Sonic Pull
4 reviews
Gone are the days when going "base-layer-less" during a race or warm spring tour is the only way to keep your core temperature in check. Most of the time, baselayers are thought of as a way to stay warm, but unbeknownst to many, they can also play a big role in keeping you cool. The fish-net design seen on the Sonic Pull (shirt) is incredibly popular among the cycling community, especially in the summer. This is because of the unmatched ability to pull your jacket away from your skin by creating thousands of small air pockets. The air pockets allow air to circulate and make sweat disappear quicker than ever, keeping you cool and dry. The ultimate baselayer for any high output activity in any condition? Quite possibly.
Athletic "second-skin" fit is seamless for no chafing.
Use it for skiing, running, fat-biking, mountaineering, mountain biking, or skiing.
Quick-drying fabric is unmatched in breathability.
Specifications
Weight
convert to ounces
130g [M]
Ventilation
All over
Hood
No hood
Pockets
None
Waist
Elastic
Cuffs
Elastic
Specs Verified
Yes
Design
Fit
Tight
Materials
92% polypropylene
8% elastic
Insulation
N/A
Lining
None
Coating
None
Skimo Co Says
Usage
Base layer
Notes
Very breathable
Bottom Line
All over ventilation
Compare to other Men's Layers
Questions & Reviews
Comfy, and I do think it keeps me dryer/cooler/warmer. I typically wear it under a sun hoody on variable temperature ski tours. On colder days I add an additional base layer on top and find it keeps me super toasty.
Comment on this review:


I've worn mine a half dozen times so far and find it works very well. I wear it under a closely sized wind shell with full zip. With the wind shell unzipped I stay remarkably dry skinning uphill at a hard breathing pace. With the shell zipped the mesh provides a considerable amount of warmth, but I usually add a thin soft shell on top top for the descent while touring.
Comment on this review:


There is no way to make this fashion safe. However it's got some great applications at either end of the temperature spectrum. It's is great alone under a soft shell for high output temps and activities: quick venting like nothing else. I like it best under heavy long underwear for subzero, stop and start sports like resort skiing or ice climbing. But folks who can see it will mock you.
Comment on this review:


Fast and dry warmth! Pretty impressed with it! Never tried any other fishnet baselayers but if they're anything like this then I am a 100% advocate for them. Now if only I can pull this off in public without wearing something over it...
Comment on this review:


Earn store credit by writing reviews. Learn more.

Model: Sonic Man