thomc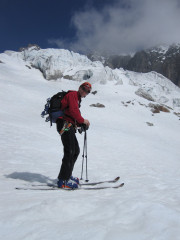 Gender:
Male
Height:
6' 2"
Weight:
190 lbs
Shoe Size:
US 12.00
Skier Type:
Type III - Aggressive
Ski Frequency:
10 - 24 days / year
Learn more about me at:
http://thomsgear.blogspot.com/
My Skiing
resort and moderate ski mountaineering objectives (Vallee blanche, SLC side/backcountry, etc.) Enjoy access to and descents from high places. Better climber than skier, very moderately accomplished, and getting less so every day.
My Gear
dynafit tlt5s, tl6 performance cls, trab stelvio, dynafit speed turn. dynafit denali, speed superlight, movement vertex, plumb guide, atomic 78s, Blizzard Zero 108s, dynafit rotation
Recent Posts
I've pounded mine and not had the brake spring failure. That said it is a thin spring, but not one that has failed on me yet. The binding is a good match with blizzard 108s and as damp a pin binding as I have used. The Hagen aka ATKs pure/core are lighter and more minimal but less damp. The rotation can be a pain if activated inadvertently when stepping in. I'd give em 4 stars for a heavy side country rig which does allow more knee forgiveness and less ski or die reliability
Pretty spot on with my experience. Warmer than race pants, much less substantial than full-featured softshell pants for skiing. Very comfortable.
I was very doubtful, and don't ski 55 degree couloirs, but they are fine for punting around and a heck of a lot more. I wouldn't want them around in very tight terrain: bushwacking, tight trees, etc. I tend to go a bit starfish in those situations, and if skis or poles are too long I'll hit whatever cage I'm rattling. I do love that they are like an ice axe (absent the sharp stuff): you don't generally use a strap, so you just don't drop them (you can thread a strap on my old 135 cm yellow version). I might...
This is a burly accessory clip. It is not a carabiner I'd use for climbing. The peening on the wiregates would easily slice something, if only your thumb. I like annoyingly small superlight 'biners, for example DMM. I like inexpensive ultralight gear, for example CAMP.
I have used for ski mountaineering outings and as lead gloves for ice. They are excellent value, durable and dexterous. Warm enough for movement but not a belay or rap glove, although they have held up fine for a few here and there.