thomc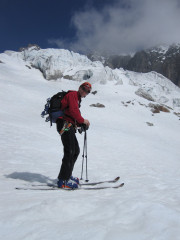 Gender:
Male
Height:
6' 2"
Weight:
190 lbs
Shoe Size:
US 12.00
Skier Type:
Type III - Aggressive
Ski Frequency:
10 - 24 days / year
Learn more about me at:
http://thomsgear.blogspot.com/
My Skiing
resort and moderate ski mountaineering objectives (Vallee blanche, SLC side/backcountry, etc.) Enjoy access to and descents from high places. Better climber than skier, very moderately accomplished, and getting less so every day.
My Gear
dynafit tlt5s, tl6 performance cls, trab stelvio, dynafit speed turn. dynafit denali, speed superlight, movement vertex, plumb guide, atomic 78s, Blizzard Zero 108s, dynafit rotation
Recent Posts
This follows years a couple of years of use, after years of using the Dynafit TLT 5s and 6CRs. While not quite as nimble on the up, they are solid on the down. I can't evaluate the flex ratings due to limited understanding / experience, but if they are 125 they seem like a relatively soft boot compared to old Lange bang black 130s. Possibly it's the greater amount of play. I'm wearing these in 29.5 but wear Dynafits in 29. But I think not: they feel like they fit well, and I'm not sure I've even baked them ...
This is a very warm, technical skimo jacket, more than a touring jacket. Unlike the Orthovox Piz it's got a nice, dense nap, and provides more heat capture with it's grid pattern. That plus no pit zips and I would not want this above 20-25 F if actively moving. With a light t-shirt or mesh underwear it could cover a very wide temperature range. It is well made, but not overwhelmingly so, and requires some wind layer if it blows.
This is a very special ski, made by craftsmen. Used it with overnight pack weight in 10" of new snow, and with it's matched skins it got around great. Nimble steady platform. Skied it on piste it carves, while narrow light and small (for my size, skiing the 178s). It handles extremely well on most snow conditions, especially at mid- to high-speed and shorter turns. It and a pair of Stevios from Trab a decade old remain my best skis. Matched them with Hagan Core 10s. Nice to have a light, full-featured break...
What are the dimensions and weight of this?
Hey Skimo team, hope all's well. Will these work with Petzl Lynx crampons?