Elan Backcountry Skis

Based in Slovenia, Elan has been crafting high-quality skis for over 70 years. They were the first to introduce shaped (carving) skis and have remained at the forefront of global trends, winning many international awards for technology and design. Handcrafted in the Alps, Elan skis have been a long-time favorite among many World Cup winning racers and ski enthusiasts.

The Elan Ibex 84 Carbon XLT is the antithesis of unforgiving or twitchy carbon skis. A buttery smooth flex-pattern contributes to a drastically fun, worry-free attitude with pleasant flotation in soft stuff. Modern torsional rigidity and dampening qualiti..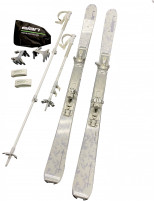 Since the dawn of man - in regard to their interest in skiing - we've been asking ourselves how great life on the mountains would be if we had foldable skis. Apparently, the folks at Elan answered that question by coming out with a pretty neat setup in th..

The Elan Ibex 94 Carbon XLT has a unique feel that everyone should try. A smooth and easy longitudinal flex paired with a hook-free tip and solid torsional stability makes skiing fun again. The relaxed demeanor and Mountain Rocker tip come together in joy..