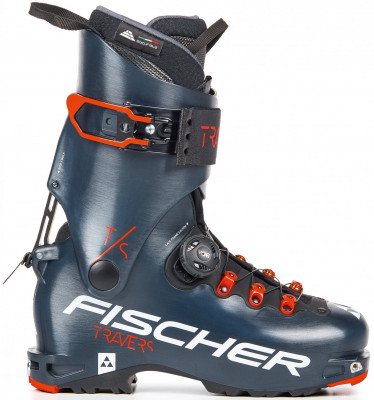 Fischer Travers TS Boot
0 reviews
Gear that works well for a wide variety of uses is the best kind of gear, and the Fischer Travers TS ski boot ticks all your boxes. Whether it's backcountry touring, casual skimo racing, or the occasional on-piste foray, the Travers will have your back feet. The word 'workhorse' comes to mind when talking about the Travers TS. You can line up at the starting line for that weeknight skimo race, then head out on Saturday morning to ski that peak located miles from the road, all without switching your socks boots. Light enough to walk for miles and miles, but with a tall and stiff cuff that charges as hard as you do, this boot lands in that 'sweet spot' that great gear can be found in. You can get all the cool features at a price that won't leave you gasping for air, making it a fantastic choice for the average backcountry skier. Just don't forget to take them off for date night, because while we understand how great these boots are, your mom date may not appreciate them as much.
This updated model packs much of the same punch as the original Travers Carbon, just at a significantly more friendly price.
Ski/walk lever beds flat into a notch against the back of the cuff when in walk mode, eliminating accidental lever bumps and lockouts.
Easy Lace Liner allows for an articulated tight fit that holds the foot in place, providing an improved fit while remaining easy to take on and off.
The upper buckle is adjustable via a Velcro strap, allowing for a fully unique fit that is perfect for folks who have issues with buckles not fitting right in the calf.
Boa closure system on the lower shell of the boot provides an even fit that eliminates buckle-induced pressure points, closing the boot around the whole foot rather than clamping down onto it in one or two spots.
Somatec from Fischer means your feet are angled outward 3° for a more powerful stance.
The punchable lower shell is great for folks who know they have a trouble spot on their feet.
Specifications
Weight
convert to ounces
1229g [27.5]
Weight (pair)
2458g [27.5]
Buckles
Powerstrap top buckle + BOA
Boot Sole Length
276mm [25.5]
286mm [26.5]
296mm [27.5]
306mm [28.5]
316mm [29.5]
326mm [30.5]
Binding Compatibility
Tech only
Cuff Rotation
80
Forward Lean(s)
14 + Velcro spoiler
Specs Verified
Yes
Design
Materials
Grilamid
Liner
Comfy custom heat moldable liner
Sole
No-Torsion
Skimo Co Says
Usage
Ski touring, ski mountaineering
Notes
Somatec for quicker ski engagement
Bottom Line
Great walking/skiiing boot at a non-carbon price!
Compare to other Touring Boots
Questions & Reviews
Earn store credit by writing reviews. Learn more.

Model: Travers TS
MPN: U18619