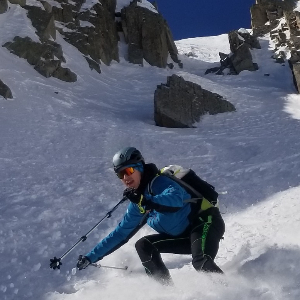 Ian C
Gender
Male
Height
6' 3"
Weight
185 lbs
Shoe Size
N/A
Skier Type
Type II - Moderate
Ski Frequency:
25 - 50 days / year
My Skiing
Experienced endurance athlete, intermediate skier, novice mountaineer, racking up some experience in the Wasatch with the goal of putting it all together on ski mountaineering objectives!
My Gear
DPS Pagoda Tour 87, ATK Kuluar, Dynafit TLT8
BD Helio 95, Salomon MTN, Dynafit Radical Pro
Recent Posts
Hi Calvin, besides your screw kit, you will also want inserts--one per hole--as well as quiver killer specific tools (step drill bit, bottom tap and installation tool).
Hi Tom, unfortunately, the tail strap will not be able to stretch past 170cm. The 165-180cm adjustable length should be able to fit both! For this skin specifically, we currently only have the 140mm width in stock which would be totally fine. You will need to trim a little extra to make it fit your skis.
Hi T Ski Guide, sorry to hear you had a poor experience with this binding! I agree with you that the heel piece of this binding is not meant to be rotated with a pole. If you send some photos and a description of the u-spring issue to us at help@skimo.co, we can definitely look into a warranty with Dynafit!
Hi Steve, there is a bulge on the boot cuff to accommodate the lower cuff buckle cable, but the ankle area of the shell itself is average for these boots.
Hello Derk, depending on the conditions you are most likely to regularly encounter, these skis could be a great choice. They are lightweight and powerful with excellent edge hold. Please send us a note at help@skimo.co so we can continue the conversation! We would of course be glad to include some photos of the skis.
Wish List