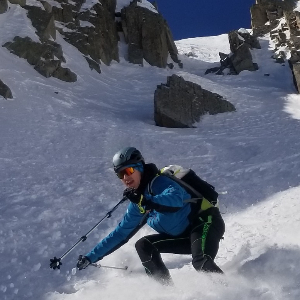 Ian C
Gender
Male
Height
6' 3"
Weight
185 lbs
Shoe Size
N/A
Skier Type
Type II - Moderate
Ski Frequency:
25 - 50 days / year
My Skiing
Experienced endurance athlete, intermediate skier, novice mountaineer, racking up some experience in the Wasatch with the goal of putting it all together on ski mountaineering objectives!
My Gear
DPS Pagoda Tour 87, ATK Kuluar, Dynafit TLT8
BD Helio 95, Salomon MTN, Dynafit Radical Pro
Recent Posts
No reviews for this binding yet? Okay I'll bite. I invested in these bindings as an inflation-proof commodity last year and while I can't speak to their resale value, I can vouch for their performance on snow. The Kuluar differentiates itself from the other 200g-ish touring bindings via the heel piece, which features a sexy space age stainless steel heel tower and elastic retention. It is hard to say how much benefit is actually provided by this elasticity, but it does seem like a more robust setup than a f...
Hi DGG, this is the leaner version with a streamlined toe piece akin to the ATK Crest or Hagan Pure. Hagan's Raider Evo rebrand can be found here: https://skimo.co/hagan-core-evo-bindings Both this and the Core 12 Evo use a system where the heel piece rotates 180 degrees from ski to tour mode, which automatically retracts the brakes. You can view a demonstration here. This eliminates the need to press a brake button but introduces a mandatory heel rotation step. I suppose the Evo system would slow down t...
Hey Eric, most likely you will remain in the same size to get the length you need. However, other elements of the boot fit different from the Tour Pro so there is no guarantee that it will work out of the box! As always, if you'd like to dive into bootfitting details you can write us at help@skimo.co.
Hi Slator, the sliding action on the brake pads is intended to counter the lateral friction from the brake itself. If you remove the brakes, then theoretically you no longer need an AFD as there is no interference in the first place. However, if you like a solid platform for your heels, you could also take a look at the Raider freeride spacer from our ATK binding parts page. These contain their own sliding plate and can be used with the seat covers in the absence of brakes.
Hi Michael, the brake seat cover is a single piece of static plastic used to fill the aperture once brakes have been removed from an ATK heel. Its purpose is to ensure snow buildup does not occur underneath your heel pins. By contrast, the freeride spacer consists of two anti-friction plates mounted on either side of your brake pad (or where your brake pad would be if you already removed the brakes). By increasing the friction-free surface area against which your boot outsole comes into contact, these space...
Wish List