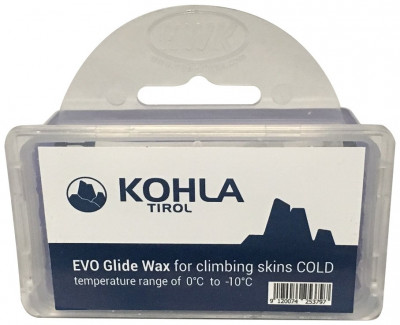 Kohla Evo Skin Wax
0 reviews
The folks at Kohla are smart and figured out that the easiest way to make your speedy climbing skins faster is to hot wax them. You do it for your skis, it'd only make sense to put it on your skins as well. Seeing as 90% of your time is spent skinning, they spent 90% of their time making a special wax formula just for that. The purple Evo wax is a low-fluoro concoction that is optimized for firmer crystals found in cold temperatures. The yellow Evo wax is extra fluorinated for incredible glide and waterproofness in warmer temps. Preference was given to performance over price, and it's noticeable. The wide temperature range built into either 60g bar of Kohla Evo skin wax will keep you happy on those long, variable days.
| | | |
| --- | --- | --- |
| Model | Temperature (F°) | Temperature (C°) |
| Cold | 14°F to 32°F | -10°C to 0°C |
| Warm | 30°F to 50°F | -1°C to 10°C |
Questions & Reviews
Will this wax work with the Pomoca 100% Mohair Skins? How many applications do you get? I have been using the BD glob stopper which works but the skins still get wet after about 1,500 feet.
Hey Dustin, yes this will work just fine on 100% Mohair skins. This wax will hold up a lot better and longer than the glob stopper, and will glide better as well. You should get about 2000' if you rub it on and twice that with ironing. You should get quite a few applications if you just rub on, less if you iron.
Answer this question:


Earn store credit by writing reviews. Learn more.

Model: Evo Glide Wax