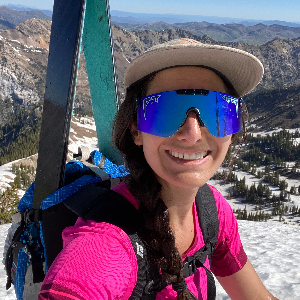 Julieana
Gender
Female
Height
5' 3"
Weight
120 lbs
Shoe Size
US 6.00
Skier Type
Type III+ - Expert
Ski Frequency:
100+ days / year
My Skiing
SkimoCo staff member 2020
Freeride World Tour Qualifier competitor. I like to go fast and take chances. Fan of jumping off of things and occasionally attempting spinny and flippy tricks. Frequently injured due to bad luck/dumb decisions.
My Gear
Powder/resort setup/daily driver: DPS Pagoda 112 in a 168cm length with Dynafit Rotation 10 bindings. Lightweight setup: Movement Alp Tracks 95 in a 169cm length with Plum Oazo toe and Dynafit Superlite 150 heel. Boots are Atomic Hawk Ultra XTD 130 in a 22.5. Pack: Mammut Ultralight Airbag 18L pack. Poles are Les Batons D'Alain in a 115cm length. Jacket and pants are the women's Dynafit Radical Infinium Hybrid line in a size M.
Recent Posts
Hey Phillip, I have the Atomic Hawx 130 and used the Medium Volume Pro Tour option and felt it was an extremely appropriate pairing. If you want a snugger fit, the medium volume is the way to go, if you need a little space, go with the low volume. A size 26 liner will be the correct one for your 26.5 boot.
Hey Marshall, the Hypercharger will be the lightest and most nimble for tight trees and deep powder. This one will have lots of power, pop, and a long effective edge that will be helpful for when you get into stranger, cruddy conditions. The Helio is a pretty solid happy medium ski that is predictable in a lot of conditions. Of the three I personally like this one the best; it's really fun in deep snow, loves to go fast, and is reliable when things get weird.
Hey Clancy, we will probably get more in at some point, however I can't tell you if or when exactly as we are rather at the whim of Alain on these... he sends us however many of whatever style he decides to make a few times throughout the season. It makes it that much more exciting when we do get them in and that much more exclusive when you get a pair! If you send us an email at help@skimo.co we can set you up to get a notification when he does send us some rainbow ones in that size!
Hey Kevin, If the boots are brand new, I would suggest heat molding the liner with a full toe cap to give the toes on your left foot a little space. Scarpa uses intuition liners designed to be heat molded even in their race boots, so if your toes are just a bit snug, a heat mold might just do the trick for you. In these boots there are no half sizes, so you would have to jump up to the 30.0 if you need more than a few millimeters of space.
Hey Tyler, This boot will have a taller instep than either of those boots. It'll have a taller toe box in general, and also a slightly larger heel pocket. If you have a lower instep, you might be a contender for the La Sportiva Skorpius, which is a very cool in-between boot. That one has a super snug fit in the instep, so potentially an option if the Backland Carbon felt roomy.