Julieana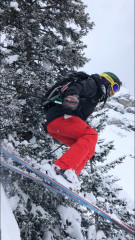 Gender:
Female
Height:
5' 3"
Weight:
120 lbs
Shoe Size:
US 6.00
Skier Type:
Type III+ - Expert
Ski Frequency:
100+ days / year
Learn more about me at:
www.instagram.com/julieanarusnak
My Skiing
SkimoCo staff member 2020
Freeride World Tour Qualifier competitor. I like to go fast and take chances. Fan of jumping off of things and occasionally attempting spinny and flippy tricks. Frequently injured due to bad luck/dumb decisions.
My Gear
Dynastar Mythic 97 in a 171 with a Hagan Core 12 binding. Boots are Atomic Hawk Ultra XTD 115 in a 22.5
Recent Posts
Hey Ben, of the skis you're considering the Voile Objective is going to be the softest, lightest, and easiest one to ski. The Ibex 84 Carbon will have a little more pop and power, as will the BD Cirque. The Ova Freebird will be the heaviest and most aggressive of the bunch. For what you're looking for I would suggest the Voile Objective.
Hey Sabby, the F1 is totally punchable in those areas! However, if you're thinking of the new F1 LT Boot, any punching done to that boot would void the warranty so that model is technically not punchable.
Hey Marty, there are definitely some really hardy lighter-weight tech bindings that would work just fine with that boot! Feel free to fill out our binding finder so we can give you some more in-depth options and advice!
Hey Dan, yes that size should work just fine for you.
Hey Tim, for that binding I would actually suggest using the Plum Ski Crampons in the 100mm width instead. The attachment style is much easier in general, and especially with the Salomon MTN binding, if you wanted to use the Black Diamond crampon you need an extra clip to keep it in place, whereas you do not need any extra hardware to use the Plum crampons.