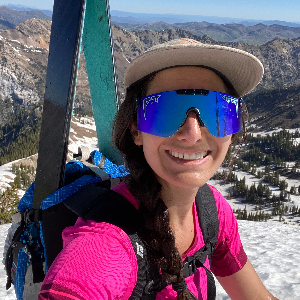 Julieana
Gender
Female
Height
5' 3"
Weight
120 lbs
Shoe Size
US 6.00
Skier Type
Type III+ - Expert
Ski Frequency:
100+ days / year
My Skiing
SkimoCo staff member 2020
Freeride World Tour Qualifier competitor. I like to go fast and take chances. Fan of jumping off of things and occasionally attempting spinny and flippy tricks. Frequently injured due to bad luck/dumb decisions.
My Gear
Powder/resort setup/daily driver: DPS Pagoda 112 in a 168cm length with Dynafit Rotation 10 bindings. Lightweight setup: Movement Alp Tracks 95 in a 169cm length with Plum Oazo toe and Dynafit Superlite 150 heel. Boots are Atomic Hawk Ultra XTD 130 in a 22.5. Pack: Mammut Ultralight Airbag 18L pack. Poles are Les Batons D'Alain in a 115cm length. Jacket and pants are the women's Dynafit Radical Infinium Hybrid line in a size M.
Recent Posts
Hey Patrick, The 10 should work just fine for you! However, if you do really want to be in the middle of the lateral spring range you can always purchase the 12 and also buy a medium-strength U-spring from the Marker Binding Parts page to swap out with the 12 spring.
Hey Jose, The 100mm brake will be just fine for that ski!
Hey Jeremy, Ski crampons aren't really something you can bend. Sometimes they do run a little wider than advertised but I just measured these and they seem to be a pretty snug 90. If you want to go with these crampons I'd suggest the 105 or you could look at the ATK crampons and Dynafit crampons. Those have some different width options and are also compatible with the Marker Alpinist binding.
Hey Kevin, If your forefoot is on the wider side this liner might feel a bit snug before it breaks in, but it should help lock your heel in nicely. A low volume Intuition Pro Tour liner would also hold the heel in snuggly, though it needs to be heat molded and might initially feel significantly snugger throughout the foot.
Hi Dauwhe, Zero camber makes the ski really surfy, easy to maneuver, and quite forgiving. I think this ski makes a lot of sense for skiers of any level or ability who want an easy-turning, versatile ski!