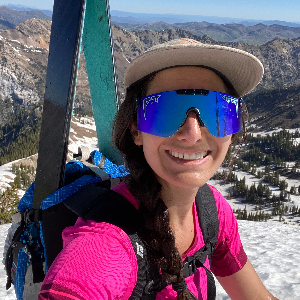 Julieana
Gender
Female
Height
5' 3"
Weight
120 lbs
Shoe Size
US 6.00
Skier Type
Type III+ - Expert
Ski Frequency:
100+ days / year
My Skiing
SkimoCo staff member 2020
Freeride World Tour Qualifier competitor. I like to go fast and take chances. Fan of jumping off of things and occasionally attempting spinny and flippy tricks. Frequently injured due to bad luck/dumb decisions.
My Gear
Powder/resort setup/daily driver: DPS Pagoda 112 in a 168cm length with Dynafit Rotation 10 bindings. Lightweight setup: Movement Alp Tracks 95 in a 169cm length with Plum Oazo toe and Dynafit Superlite 150 heel. Boots are Atomic Hawk Ultra XTD 130 in a 22.5. Pack: Mammut Ultralight Airbag 18L pack. Poles are Les Batons D'Alain in a 115cm length. Jacket and pants are the women's Dynafit Radical Infinium Hybrid line in a size M.
Recent Posts
Hey Justin, These will be fairly comparable other than the velcro tongue over the top of the foot. That may create some pressure over your toes when you flex the boot. If that sounds concerning, another potential option would be the Palau Power LT.
I don't think the fit is going to be drastically different one way or another. I personally like lace-up liners because they snug up a larger area, but a lot of people find them cumbersome to deal with.
Hi Josh, the Hoji Free boot will click into modern kingpin bindings just fine without an adapter.
Hi Steve, I would personally opt for the Palau Power LT over the Intuition. Both will take up significantly more room than the stock liner and both will make the boot feel stiffer, but the Palau will walk better of the two. If you're not worried about killing your walk mode and you need a serious amount of space taken up, the Intuition will take up a little more space and might add a little more stiffness than the Palau.
Hey Eric, We do have some on order. Shoot us an email at help@skimo.co and we can get you on a notification list for when those arrive!