Julieana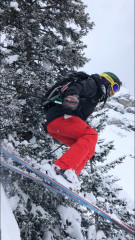 Gender:
Female
Height:
5' 3"
Weight:
120 lbs
Shoe Size:
US 6.00
Skier Type:
Type III+ - Expert
Ski Frequency:
100+ days / year
Learn more about me at:
www.instagram.com/julieanarusnak
My Skiing
SkimoCo staff member 2020
Freeride World Tour Qualifier competitor. I like to go fast and take chances. Fan of jumping off of things and occasionally attempting spinny and flippy tricks. Frequently injured due to bad luck/dumb decisions.
My Gear
Dynastar Mythic 97 in a 171 with a Hagan Core 12 binding. Boots are Atomic Hawk Ultra XTD 115 in a 22.5
Recent Posts
Hey Anthony, unfortunately we cannot get just the heel pieces for the core binding.
Hey Charlie, neither ski will overpower the Fischer Travers boot. However, if you're looking for something that is going to be more of an all condition/all-terrain ski the 95 will be the better choice of the two as it will be more maneuverable in rougher snow conditions.
Hey Roger, the old Zeus will be compatible with the Shift binding, the TLT6 Mountain will not.
Hey Sam, that 165-180cm may work for you, although since ski companies can be a little unique in how they measure the lenght of their skis there is the chance that your skis will be just a smidge too long. Unfortunately, we will not be getting any more of these skins in this season. The other option you have is to buy the material off the roll here, buy some tip and tail attachments that you can choose from here and build them to fit your skis.
Hey Carl, if you have the ability to mount on the factory recommended line that's definitely the way to go!