Julieana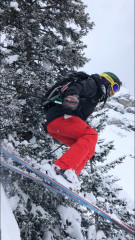 Gender:
Female
Height:
5' 3"
Weight:
120 lbs
Shoe Size:
US 6.00
Skier Type:
Type III+ - Expert
Ski Frequency:
100+ days / year
Learn more about me at:
www.instagram.com/julieanarusnak
My Skiing
SkimoCo staff member 2020
Freeride World Tour Qualifier competitor. I like to go fast and take chances. Fan of jumping off of things and occasionally attempting spinny and flippy tricks. Frequently injured due to bad luck/dumb decisions.
My Gear
Dynastar Mythic 97 in a 171 with a Hagan Core 12 binding. Boots are Atomic Hawk Ultra XTD 115 in a 22.5
Recent Posts
Hey John, the dynafit power straps aren't going to be any stiffer than the one on the Arc'teryx Procline Carbon, the only difference between them is that the strap on the Arc'teryx is a little wider across the shin. The holes in the straps are in different places, so though it is doable to swap them if you poke some new holes in the dynafit strap, it will take a little work and may wear out over time. If you're looking for a more elastic strap that you can really cinche down your best bet will be to get som...
Hi Belle, if the 23.5 Hawx Ultra 85 fits you well then the 23.5 in the Atomic Backland Pro Women's Boot should also fit you just fine. That is the current model of this boot, the model on this page is a few years old and we no longer have any in stock. Unless the Hawx Ultras felt too long I would not recommend going down a size in the Backlands.
Hey Michael, last year they did change the 95 from it's original version. They made it less rigid and a little more playful and friendly overall. Since they updated it last year they have not made any new changes to this year's model.
Hey FinnE, there is no longer an included plate (there was in previous seasons). If you want to be able to interchange the brake version and the non-brake version you would want to buy the Atomic Backland Pure Binding and then buy the Atomic Backland Brakes separately. The track length on this year's binding is actually longer than the Pure or the Brakes on their own so if you purchase this binding there is no option to remove the brakes.
I would suggest the Palau Tour Lite Pro Evo Liner over the Intuition liners for this boot. The Palau liner will definitely have more insulation than the stock liner and it will take up a fair bit of space, but it wont affect the walk mode as much as the Intuition liners. The Intuition liners are more ideal for beefier, higher flex, and higher volume boots.