Leki
Built to last, Leki has been fusing technology and design elements for over 70 years. With one foot in Kirchheim, Germany and the other in Tachov, Czech the company leverages its long term employees to bring an enormous amount of experience to work with them each day. A passion for mountain adventures is poured into every product they make with an uncompromising goal of making the strongest, highest quality poles on the market.

Leki has done it. With an unflinching focus on creating the best adjustable backcountry ski pole, they hit the mark with the Aergonlite 2 Carbon. An aluminum upper and carbon lower make these sticks durable and stiff with an amazing swing weight. Featurin..
$199.95


We know what you're thinking. How can the Leki Haute Route Pole be superior to all other poles? Well, it is. Don't believe us? Fine, we'll let the features convince you. With the extended grip, you'll be able to handle all the steeps that you'd typically ..
$99.95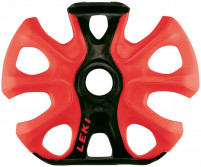 Need replacement Leki pole parts? This is the place. We have spare baskets and lowers if you broke one, lost two, or just want a backup or three. Haute Route basket - Life is a little easier with the Haute Route pole basket (AKA Big Mountain Binding Ba..
From $10.95