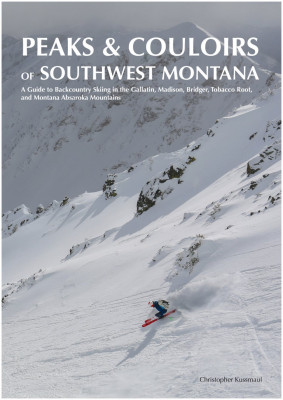 Peaks and Couloirs of Southwest Montana
0 reviews
$44.95
In Stock & Ships Today
Montana is called 'Big Sky Country' for its vast expanses, beautiful vistas, and abundance of mountains. Add snow to those peaks and you can find some of the best ski lines in the west. So many, in fact, that it's hard to know where to start. Thankfully a copy of "Peaks and Couloirs of Southwest Montana" will point you in the right direction. What could easily be described as a true hidden gem, southwest Montana will not disappoint - or be easily exhausted. The book boasts almost 200 different lines to descend so boredom is not even an option. Listed are a wide variety of descents so that there's something for everyone, including steep chutes, mellow meadows, and beautiful bowls. Having a guide to this less traveled area will lead you to fresh, exciting lines. Also included are directions to trailheads and detailed descriptions for proper routefinding. Both overview maps and route maps will give you the big picture and the details you want for a safe ascent. More than just a guidebook, the pages also include guest essays that tie in history and in-depth knowledge of the area. "Peaks and Couloirs of Southwest Montana" will open up a whole new world to the adventurous spirit.
Full color pictures from both above and more detailed to show you the big and little picture.
Essays and history are woven into the book to cover more than a simple route description.
Directions to trailheads will keep you on time for that dawn patrol.
Nearly 200 different lines are described in detail for many winters of exploring.
Unique area of the country is covered in this well thought out guidebook.
Questions & Reviews
Earn store credit by writing reviews. Learn more.

UPC: 9781736431627