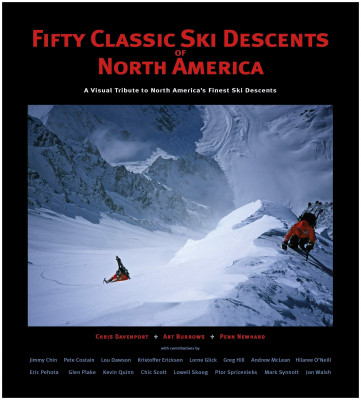 50 Classic Ski Descents of North America
3 reviews
$59.95
In Stock & Ships Today
A worthy addition to any coffee table or bookshelf, the "50 Classic Ski Descents of North America" is a stunning visual presentation of the best ski lines this continent has to offer. Authored by celebrated ski mountaineers Art Burrows, Penn Newhard, and Chris Davenport, 'The 50' includes photographs and descriptions of each line, as well as quotes and contributions from many other celebrated mountaineers and skiers. The lines included herein span the entire continent, from New Hampshire's Mt. Washington to the South Face of Mt. Superior here in our Wasatch backyard, and each one is more spectacular than the last. With some of its lines having seen only a handful of descents, this book truly represents the cutting edge of ski mountaineering and offers us what the authors call "a snapshot of ski mountaineering in 2010". Breathtaking imagery and intimate stories from the pioneers of steep skiing will inspire you to get out and ski some of these lines yourself. The "50 Classic Ski Descents of North America" represents the best steep skiing our continent has to offer and will keep you dreaming of soft snow, steep couloirs, and remote peaks for years to come. Your coffee table will thank you!
Questions & Reviews
This book is amazing. Follow Cody Townsend on youtube and follow along! Or you know, go have your own adventure. This girl I used to know stole my copy recently and I need to get that back soonest. Probably going to be easier to just buy another copy.
Comment on this review:


Need some daily inspiration in this long hard winter? Pick up this book and start planning. Patience is the key to skiing anything in this book, a skill that can be hard won in this day and age. Learn patience, do some planning and go ski some sick lines!
Comment on this review:


A favorite at the ski cabin, along with the Jackson ski atlas. It is hard to beat the quality of images and storytelling, which embody adventure but don't give away too many secrets. If you are so lucky have a view out to one of the peaks featured, this can be a really fun backyard adventure guide too :)
Comment on this review:


Earn store credit by writing reviews. Learn more.

UPC: 9780982615430