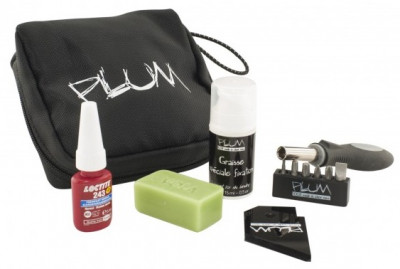 Plum Tool Box
2 reviews
A field kit assembled by Plum, the tool box features a lightweight driver with multiple bits. Also included is grease, loctite, wax, and a scraper tool. The kit comes in a zipped pouch for easy storage.
Questions & Reviews
This little kit has a few key particulars that are all good to have out on the trail, notably including the little allen wrench you need to adjust your Plum bindings on the fly. (I had a screw come loose the other day on my Oazos while out on the skinner.) I liked the way they fit in neatly into this pouch and formed a good foundation for a one-pouch "oh shit kit" to have on the trail. I picked it up, took it home, and used all the spare room in it to pack my other emergency items like matches, spare Voile straps, an emergency blanket, wire, zip ties, knife, spare pole basket, Gorilla tape, etc. It all fits compactly in the bottom of my pack and I dig how organized it turned out. Happy to be toting this around on the trail now.
Comment on this review:


This is a useful little kit. I'm not so clear on how the value is, but with the bits, you can adjust both Plooom and many other binders. As per my review of the Plum Guide, lock tote is good to have to address slippage in the adjustable plate. The wax is usable, but goes fast. The scraper is fine, if small. The white grease is the most useful item other than the tool, and the pouch is about right, although I wouldn't tour with all the items. Like many a first aid kit you could assemble a better kit for you personal needs but this is a good starting place.
Comment on this review:


Earn store credit by writing reviews. Learn more.

UPC: 3700693401906