Pomoca Regluing Kit
1 review
Like wearing an orange blazer with a red fedora and blue shoes, your skins should be tacky. If they have lost that tacky feeling, you might need to give them a hand with the equivalent of a wardrobe change. Keep it simple and less messy than other options with Pomoca's regluing kit. This kit comes with materials to help you both remove the old glue and then apply the new glue. Pomoca's glue compound is known for its staying power that is still easy to peel apart for that next climb. Love your skins, but hate the snow creep? Give them a new life with Pomoca's regluing kit.
Special cloth to lay on your old glue so you can iron it off.
130mm-wide glue tape roll will cover most skins in your quiver.
Comes neatly packed in a rocket tube.
Tubes: If glue tape isn't your thing, check out our listing for pomoca parts to find tubes or cans of hotmelt.
Questions & Reviews
Can these be used on other skins than pomoca?
Ollie,

This kit should only be used on Pomoca skins, or skins made by Pomoca for other brands.
Answer this question: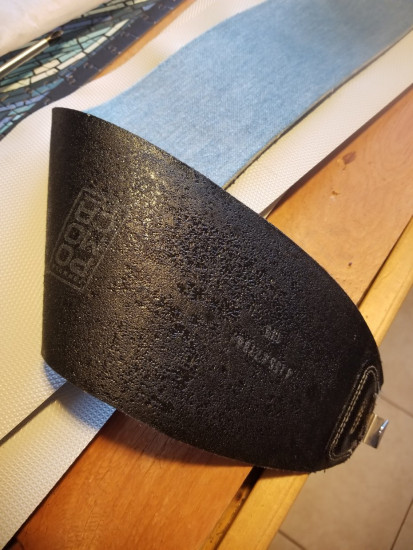 I read more reviews than I write... but I wanted to chime in on this product. I did not personally like the removal fabric strip, but Pomoca has a video where they show using a heat gun and a large putty knife to remove the old glue. This approach worked great for me on a pair of 5-6year old Dynafit branded skins. The installation process after the old glue is removed is very straightforward. I've now been out on the skins twice and they feel/preform darn close to new(no more residue left on the ski base!) and they pull apart well after storage in my jacket. The glue sheets really help get a nice even glue distribution. Personally I hope they offer just the sheets in the future and skip the fabric layer. I had been dreading the whole process after some poor experiences a decade ago, but re-gluing skins is really possible now. Lets keep more skins out of the landfills and in use!
Comment on this review:


I'm looking to reglue a pair of Free Pro 2.0 (pinks) splitboard skins that are 145mm wide. These sheets appear to be too narrow to cover my skins. I hesitate to try the G3 glue sheets because folks seem to have very poor results with the transfer. Any other products or ideas for me, or should I buck up and try the hotmelt tube glue?
Hi,

You could possibly cut the sheet lengthwise, then reglue the skin and just miss a bit of the skin down the middle. The Kohla tape is 130mm wide as well.

That said, the hotmelt glue isn't too tricky at all. Just iron a paper bag onto the glue to get the outer layer of dirt and grime off, then spread the new glue on.
Answer this question:


Do you have to still scrape the old glue off with this kit or does it all come off with the removal roll?
Michael,

To remove the old glue, use a clean waxing iron on the included cloth over the old glue, then rip the cloth off to remove the old glue. No scraping needed!
Answer this question:


does it come with glue? or just gluing set without glue?
Hi xuce, the kit contains a roll of glue tape, which you unroll and iron onto your skins.
Answer this question:


Earn store credit by writing reviews. Learn more.

MPN: 10-0017170450
UPC: 4053866336444