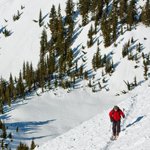 dub_xion
Gender
Male
Height
5' 9"
Weight
165 lbs
Shoe Size
US 10.50
Skier Type
Type III+ - Expert
Ski Frequency:
10 - 24 days / year
My Skiing
Lifetime skier, converted back to AT from tele a few years ago. Ski the PNW, but also like CO hut trips. Occasional uphill rando rally.
My Gear
Blizzard Kabookie 180cm, Tecnica Cochise Pro Light, Speed Radicals.
Recent Posts
Just checking how you feel the quality of the Pomoca reglue is. Considering redoing my G3s with the Pomoca glue (when it becomes available). Thanks!
Just want to check myself here: I've got some 90mm-waist skis (BMT 90s). With a 2.5mm edge on each side, that would get the skins down to 85mm, correct? Would love me some straight, glide-y skins for a great price! Any chance you could do a quick check on your BMT 90s in stock to confirm?
Would you feel these are enough boot for wider freetour skis, like the Alchemist Wailer 112, Katanas or 4Frnt Hojis (latter two also being 112mm waist) for dedicated backcountry, powder, not-too-sendy skiing? Looking to move off of my Vulcans to something lighter with more ROM, but still robust enough for those types of skis, and light enough to replace my TLT6-Ps when using my 90-mm spring/13-14er ski.
Hi Andrew, just chiming from personal preference, this situation is ideal! With the tip rocker, you don't really need edge-to-edge coverage at the ends; however, you'll have plenty of edge-to-edge contact in the middle of the ski where it counts most. The situation you have will be lighter than a 120mm-width skin with less drag. I can echo what Teddy says about the trimmer provided - I've trimmed many of my own skis accurately with that trimmer and things turn out great, especially with the first set of s...
Thanks for the reply, Julieana! Maybe the 7mm Palau Ultralight Race liners, then? What's the weight on those? Any other recommendations?