dub_xion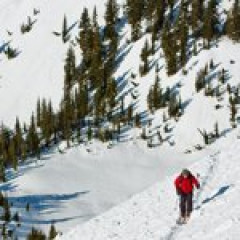 | | |
| --- | --- |
| Gender: | Male |
| Height: | 5' 9" |
| Weight: | 165 lbs |
| Shoe Size: | US 10.50 |
| Skier Type: | Type III+ - Expert |
| Ski Frequency: | 10 - 24 days / year |
My Skiing
Lifetime skier, converted back to AT from tele a few years ago. Ski the PNW, but also like CO hut trips. Occasional uphill rando rally.
My Gear
Blizzard Kabookie 180cm, Tecnica Cochise Pro Light, Speed Radicals.
Recent Posts
So far a pretty good binding that I've found easy to use. Really low ramp angle; so low, in fact; I've added in heel wedges inside my boots to get a little increased forward lean! I've found the toes fairly easy to step into, about as easy as my Ions, maybe a little less easy than Dynafit Radicals. Stomping in to the U-springs takes a little more effort than pins. If your DIN/RV is calculated close to a 9, I'd get the Alpinist 9 as the 12 spring is hard to step into. I've found the heel risers are actuall...
Partial review for the med U-spring. Thankful for Skimo.co for making these available! Coming from an alpine skiing background, my tendency is to buy bindings with release values/DIN a bit higher than my calculated RV/DIN. So, even though the RV I set my bindings to is 8, I end up feeling like getting a binding that goes to 12, which means I ended up getting the Alpinist 12 instead of the 9. The 12 does seem to have a near-impossible spring to step into, and putting the medium spring on has helped, along wi...
Hi Curly, any long-term follow-up on these? Curious as I haven't heard much bad about them with failures, etc. Thanks!
Do you happen to know if the toe has the same hole pattern as the Kingpin?
Does the hole pattern of the SCTT match any other typically-available heels (ie. Plum, etc)?