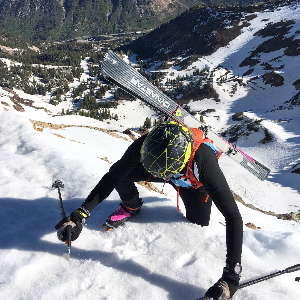 eric
Gender
Male
Height
6' 0"
Weight
165 lbs
Shoe Size
US 9.50
Skier Type
Type III+ - Expert
Ski Frequency:
100+ days / year
My Skiing
everything from powder to steep icy chutes.if its got snow I will ski it. I have
skied all over the world and very close to skiing all 7 continents.
My Gear
powder days tlt6 performance, blizzard zerog 95 with speed turns. every other day dyna evo boots, atomic ultimate 78 with trab race bindings.
Recent Posts
Zach-The Hyper V8 has plenty of backbone actually. It will do both long high speed turns and pivot easily for short turns. It has a bit more rocker than the Hypercharger, so with more rocker (shorter effective edge) and that your looking for more float in the soft stuff sizing up would be a good idea too. Between wider and little longer you are going to have a much better floating ski.
Dalton, The MV or medium volume liners should be a direct replacement for a lot of stock liners. Think back to when the boot was new, if you liked the fit then MV is the right choice. If you think you would want even snugger than that go HV. If they were really tight than maybe LV but I kind of think that might give you too much room in that boot.
Tim- Generally you can get a few extra millimeters above the stated width. In this case a 90mm ski is about tops without some good bending.
Erik-Good question, I think it depends on your boot and goals with the ski. If you are using a beefier boot or want to do lots of vert for a big day then go longer. If you are skiing a lightweight boot or race boot and the big day is a traverse style ski more than vert go to the shorter length. Generally, you would err shorter but you kind of fall in between the lengths of this ski.
Michael - sounds like you can ski skinny skis just fine. You could easily ski a race ski, though I think a difference between your Hagan and the current race skis is that the race skis are a lot stiffer with less sidecut than the older Hagan's. This makes them a lot less friendly in tougher snow conditions. I think if you want the same ski feel, look at something like the Atomic UL 78 or similar would give a better ski experience in all snow types. So, yes, you might need to go a little wider.