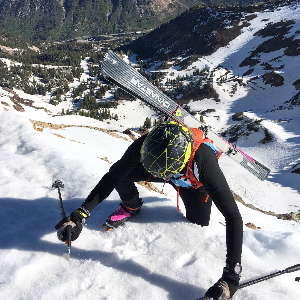 eric
Gender
Male
Height
6' 0"
Weight
165 lbs
Shoe Size
US 9.50
Skier Type
Type III+ - Expert
Ski Frequency:
100+ days / year
My Skiing
everything from powder to steep icy chutes.if its got snow I will ski it. I have
skied all over the world and very close to skiing all 7 continents.
My Gear
powder days tlt6 performance, blizzard zerog 95 with speed turns. every other day dyna evo boots, atomic ultimate 78 with trab race bindings.
Recent Posts
Jeffrey- Our suggestion for fixed length poles is 5cm - 10cm longer than your alpine length. Longer will give you more push and better in hard snow terrain. But the draw back is that you might have to choke up a little for descents.
Sven-The Kreuzspitze has a longest tooth at 53mm where the Dynafit has 66mm depth. The best solution is to skin at a slightly lower angle and use a step down on the risers.
Nels- The Hyper V6 would be a perfect ski for you! The 173cm ski sounds like the correct length for you too.
Jon- You are correct as of fall 2020 Black Diamond is now recommends using 4.1 width drill bit on all newer skis. Ski construction can change these days without name changes. But if ever in doubt, drill a ski with a 3.6 first and see if there is metal. If there is metal, than use 4.1 to enlarge the hole.
Thomc- Glad you appreciate our compulsions! Best place for the leash is the side of the toe lever. There are some holes on the side of the lever you can girth hitch the leash too, if you must.