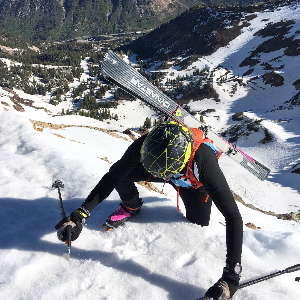 eric
Gender
Male
Height
6' 0"
Weight
165 lbs
Shoe Size
US 9.50
Skier Type
Type III+ - Expert
Ski Frequency:
100+ days / year
My Skiing
everything from powder to steep icy chutes.if its got snow I will ski it. I have
skied all over the world and very close to skiing all 7 continents.
My Gear
powder days tlt6 performance, blizzard zerog 95 with speed turns. every other day dyna evo boots, atomic ultimate 78 with trab race bindings.
Recent Posts
Rares- I would suggest the 184cm length at least. You could go longer too if you like longer skis in general.
Joe- The DPS has more sidecut and the tip engages a little quicker whereas the Armada has a straighter cut which lends it to be a little surfier and the tail slides a little more easily. In other words, the DPS has a more old-school feel and the Armada is a bit more new-school feel.
David- Either ski would be a good choice. The deciding factor might be which boot you use. The Blacklight has a stiffer tail and skis better with a stiffer boot. Whereas the Magico 2 is stiff with a rounder flex and seems to ski fine with a lighter boot or even a race boot.
Eddie- I would suggest going with the small size.
Hey Scott, The only skins with better glide would be a race skin. Try waxing the skins with a temperature specific wax to help glide and break in.