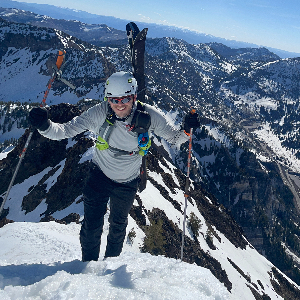 Jeremy L
Gender
Male
Height
5' 10"
Weight
170 lbs
Shoe Size
N/A
Skier Type
Type II - Moderate
Ski Frequency:
50 - 99 days / year
Recent Posts
Hi Jon. About this big. Standard Nalgene and centimeters below.
Hi Anna. We don't have any on order at the moment but do reach out to us at help@skimo.co and I think we can try and get those for you.
Thanks for reaching out, Haigh. The 80mm Dynafit ski crampon would fit your ski. The 75mm ATK would give you a better, more snug, fit.
Hi Brian. There is! The end of the leash is attached to a "puck". If you put the toe lever in the lock position, you should be able to slip a flathead screwdriver under the toe lever and pop that puck and the end of the leash out. Then simply remove the puck and pull the end of the leash out from the toe piece. I hope this helps.