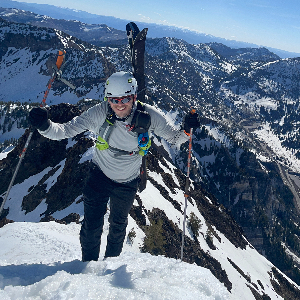 Jeremy L
Gender
Male
Height
5' 10"
Weight
170 lbs
Shoe Size
N/A
Skier Type
Type II - Moderate
Ski Frequency:
50 - 99 days / year
Recent Posts
Hello, no this jacket is not waterproof. This would be a great item for hiking up in dry weather or mated with a hard shell jacket that is waterproof! Please let us know if you have any other questions at help@skimo.co.
Thanks for reaching out, Marshall. It is ill-advised and will most likely void the warranty. We do have several pairs of the pure that we are expecting very soon.
Thanks for reaching out, Peter! The Travers is very similar to the Transalp, and if the Transalp didn't fit well, the Travers definitely wouldn't either. If you're looking for some new boots, please check out our online bootfitter and we'll look forward to helping you out!
Thanks for the question, Grant. We have received a response from La Sportiva and it looks like all the Skorpius boots that came out of the factory, starting with the 20/21 season, were all updated with a more flexible plastic material to avoid breakage.
Hi Scott. You are fairly correct in your assessment. I think that this ski is going to behave exactly as you want it to and almost anything is going to be easier to throw around than those Zero G's. Feel free to reach out with any more questions.