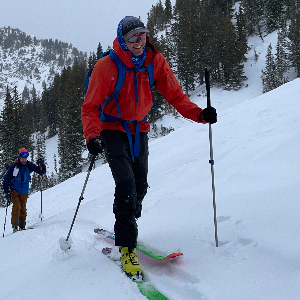 Brett S
Gender
N/A
Height
6' 5"
Weight
98 lbs
Shoe Size
US 10.00
Skier Type
Type I - Cautious
Ski Frequency:
1 - 9 days / year
My Skiing
Still learning how to ski, but love being outside.
My Gear
None, I have yet to find a combo I like.
Recent Posts
Hey Eric, please click here for DIY instructions.
Thanks for reaching out, Ush. There are many great options that work, but unfortunately, you'll still need to step out of every binding to free your heel after descending. Most would find either a race or lean binding to work best with this ski. For a personalized recommendation please fill out our Binding Finder.
Thanks for reaching out, Dawson. The shims for 21/22 bindings are also compatible with 22/23 bindings. If you have a Speed Radical, the Classic shim is the way to go. If you have a Radical ST, then the Radical 1.0 Shims are what you're after. If you have an older radical binding (unlikely) please send an email to help@skimo.co and we'll get it figured out!
Thanks for reaching out, Eric. This binding remains in the Hagan/ATK lineup for the 22/23 season. It is a great binding and we don't have any durability/technical issues to report.
Thanks for reaching out, Ryan. Very simply, if you prioritize downhill performance, this could be used as a dedicated touring boot. If you want something that is a bit more balanced up and down, a touring boot would be great to check out. From my experience, this is the lowest volume boot (when downsized) in the freeride category. For example, going with the 25.5-26.0 Quattro vs a 26.0-26.5 size from another brand. The Quattro has a tight heel/ankle, average forefoot, with a fairly low instep. For more of a...
Wish List