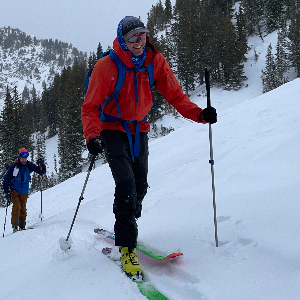 Brett S
Gender
N/A
Height
6' 5"
Weight
98 lbs
Shoe Size
US 10.00
Skier Type
Type I - Cautious
Ski Frequency:
1 - 9 days / year
My Skiing
Still learning how to ski, but love being outside.
My Gear
None, I have yet to find a combo I like.
Recent Posts
Hey Koby, the 26.0-28.5 TLT7 strap is ~21.5" long (total length) with the holes spaced ~2.5". So, sounds like it could be an option!
Hey Dominic! The shaft of the Venom is thicker and more angled than the Petzl axes so it may be better to stick with the manufacturer-specific accessory. To my knowledge, no one here uses the Trigrest with this or any other BD axe.
Hey Adam, if you decide you want them, send us an email at help@skimo.co and we can try to get them in.
Hey Holly, these will be stiffer and more linear than the backlands. The backlands will be softer and more progressive.
Hey Max, these certainly will provide more padding than the stock liner, though you'd want to get them heat molded as they are 4mm thicker (in the LV option) than the stock liner. Compared to the stock liner, these weigh more and will have a reduced range of motion. Some folks may feel this while others may not.
Wish List