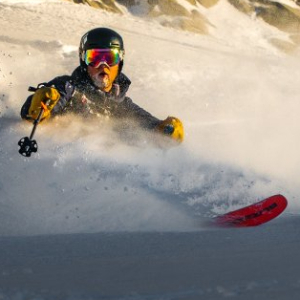 Cole P
Gender
Male
Height
6' 2"
Weight
200 lbs
Shoe Size
US 11.50
Skier Type
Type III+ - Expert
Ski Frequency:
100+ days / year
My Skiing
Aspiring La Grave Resident
My Gear
K2 Wayback 106, Dyanfit Radical Pros, Atomic Backland Pure.
Recent Posts
Hey Satoru, the Palau All Track Power has more flexibility for the hike up compared to the Intuition Pro Tour. The Medium Volume Pro Tour will be closest to the Stock liner of the Dynafit Hoji Free. Both options are heat moldable.
Hey John, the K2 Wayback 106 is a great option for your expectations. A longer turning radius with their early rise will allow you to fly down the fall line. They are exceptionally well-rounded and would feel confident in firm conditions. I think you are looking for a fun, surfy, confident ski then the Wayback is the clear winner.
Ryan, the fit of the Fischer Transalp Pro is very different than the examples you provided. The Fischer Transalp Pro is a 100mm last which fits medium/average feet. The heel pocket is an average fit and so is the instep. This is a great option for those that never felt comfortable in a low-volume boot but never fit well in a wide or high-volume boot either.
Hey Ryan, the Zero G Tour Pro is a very stiff free touring boot and really can't compare to the Zero G Peak Carbon since they are in very different classes. In general touring boots can be difficult to state a flex rating for multiple reasons. The Zero G Peak Carbon is a boot that hikes incredibly well and for how well it tours the Peaks will deliver on the down. With that said I would not recommend skiing the Peaks on a daily basis with skis over 100mm underfoot and will prefer narrower skis. While the Zer...
Hey David, the release values are comparable to other tech bindings and is how you should identify which option you will purchase. Unlike most tech bindings the Alpinist uses a zero-gap in the heel which makes the release more consistent. The Alpinist can only adjust laterally and has a fixed vertical release. So the Alpinist 8 will max out at an eight laterally and is fixed at an eight vertically. The Alpinist 10 can adjust from 4-10 but the vertical release is fixed around a nine. We do sell U springs fro...