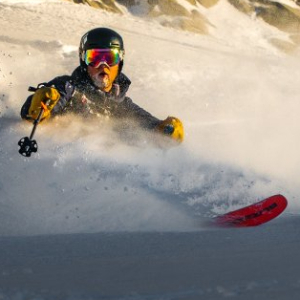 Cole P
Gender
Male
Height
6' 2"
Weight
200 lbs
Shoe Size
US 11.50
Skier Type
Type III+ - Expert
Ski Frequency:
100+ days / year
My Skiing
Aspiring La Grave Resident
My Gear
K2 Wayback 106, Dyanfit Radical Pros, Atomic Backland Pure.
Recent Posts
Hey Marissa, the Atomic Backland 107's are more playful, energetic, and easier to release the tail. The DPS 106 is stiffer and very damp which makes them more all-mountain powder ski that can really hold an edge without washing the tails out. Both options are great in soft snow but the Backland 107's are more of a powder-specific ski, while the Pagodas can feel at home in a number of conditions.
Hey Ben, the included receptors are compatible with the Zed. Just slide them under the toe piece and screw them in with the included hardware just like the ION.
Hey Nathan, the TLT7 and TLT8 are considerably higher volume than the TLT6 performance. We do offer the Dynafit Speedfit Pro boot for people who loved the fit of the TLT6. It is the same mold but has a different liner. For other options that has a lower volume fit and in the same class I suggest looking at the Scarpa F1 LT or the Salomon S/Lab MTN Summit boot.
Hey Kellan, the Radical Pro stock liners are made of the same material as Intuition liners so there are only an upgrade if it changes the fit to your preference. If you rather use the Intuition liners they will work fine in the Radical Pro. I suggest re-molding them or expect a few days of skiing to break the liners in to get the desired fit.
Hello Bayley, that might be stretching the brake too much, and usually can only bend out up to 5mm. If there is a 110mm brake option that would be preferred but otherwise the 120mm will be the better choice over the 105mm brake for your ski.