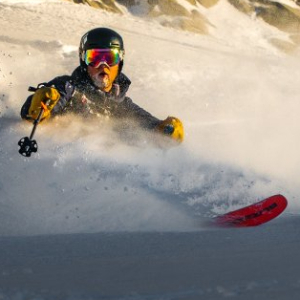 Cole P
Gender
Male
Height
6' 2"
Weight
200 lbs
Shoe Size
US 11.50
Skier Type
Type III+ - Expert
Ski Frequency:
100+ days / year
My Skiing
Aspiring La Grave Resident
My Gear
K2 Wayback 106, Dyanfit Radical Pros, Atomic Backland Pure.
Recent Posts
Hey Greg, the goal is to get as close to the underfoot width as possible. You can size down and bend out the brake arms, but you can only stretch them so far. I would say max 4mm. For the 90mm underfoot ski the 91mm will work best and for the 100mm underfoot ski the 102mm would be ideal. We do sell brakes separately, here if the ideal brake width is out of stock. The ramp angle of the C-Raiders is 10mm.
Hey Wanhe, the toe looks great in the picture. I would make sure both the cords are as tight as you can and the strap is pulled down snugly. You have plenty of boot in the toe bail, just keep the cord and strap tight and go ski!
Hey Adam, Mountian Flow has made a top sheet anti-snow spray in the past but discontinued that product. The Eco Skin wax spray will not hurt your top sheets but may leave a film that will likely keep the snow off but may feel greasy on your hands and gloves.
Hey Chris, just put the Irvis crampons on a 348mm boot sole length and fit great with room to spare! These crampons are awesome.
Hey Ben, the Kuluar release values differ in our tests from the Trofeo, so it appears to be a different u-spring.