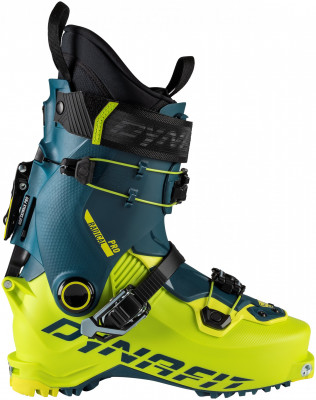 Dynafit Radical Pro Boot
1 review
If Dynafit made a Venn diagram of its (non-race) ski boot lineup, one circle would feature the beloved TLT8 Expedition boot, known for being lightweight, efficient, and capable of big days in the mountains. The other circle would be the Hoji Free 130 boot. These aggressive, huck-your-meat, stiff-as-a-2x4 boots have proven to be a delight for the freeriders who earn their turns (and drops.) But what about the skiers who want a little A and a little B? What would be the overlap of this Venn diagram? Introducing the Dynafit Radical Pro boot. This factory-made Frankenstein keeps the best traits of the Hoji Free but goes on a diet for a faster up. Don't worry, the ingenious Hoji Lock System isn't going anywhere. With one simple movement, you can switch your boots from a rock-solid stiff alpine boot with a 120 flex to a comfy, nimble 60 degrees of cuff rotation. The Master Step insert makes clicking in even easier. The cuff is Grilamid loaded with glass fibers for weight savings and increased durability. Speaking of up, the Radical Pro features heel and toe welts capable of accommodating step-in crampons. Once you've breezed to the top, just hit that same lever again to reverse course, and charge the mountain. The Dynafit Radical Pro allows you to bask in the glory of a great performance on the up and the down.
Ingenious Hoji Lock system transitions from climb to descend with the flip of a single lever.
Dynafit Ultralon liner walks incredibly well when combined with 60 degrees ROM.
Master Step insert makes clicking into your toe piece a breeze.
120 Flex makes this a hard charging, confidence inspiring piece of footwear.
Pomoca outsole provides great grip to keep you upright on that ice-covered ridgeline.
Specifications
Weight
convert to ounces
1525g [27.5]
Weight (pair)
3050g [27.5]
Buckles
3+ Power Strap
Boot Sole Length
287mm [25/25.5]
297mm [26/26.5]
307mm [27/27.5]
317mm [28/28.5]
327mm [29/29.5]
337mm [30/30.5]
347mm [31/31.5]
Binding Compatibility
Tech, MNC
Cuff Rotation
60°
Forward Lean(s)
15°, 11° with spoiler removed
Specs Verified
Yes
Design
Materials
Grilamid with glass fibers
Liner
Dynafit with Ultralon foam
Sole
Pomoca
Skimo Co Says
Usage
Free touring
Notes
Hoji Lock system has virtually no play
Bottom Line
Freeride boots just found a new gold standard
Compare to other Freeride Boots
Questions & Reviews
Hi, are you carrying the Dynafit radical 110 boot? Size 29?
-thanks
David
Hey David, give us a shout at help@skimo.co and we can see what we could do. Thanks
Answer this question:


Any advice on decision making for choosing between the Radical Pro and the TLT8 Carbonio. Is the downhill performance between the two boots substantially different?
Hey Jon B, the downhill performance will be significantly different between the two boots. While not as stiff as the Hoji Free 130, the Radical Pro is a powerful boot that has been designed to walk more efficiently than the Hoji Free. The TLT8 will be lighter and a more efficient tourer but may be overpowered by larger waisted skis.
Answer this question:


What's the recommendations for crampons with these?
Answer this question:


Skied a 15,000 ft. day yesterday on these, about 9-10K heli assist, and the rest touring. I have to say, I've found what I think is the gold standard "Beef Boot" for the dedicated tourer (as long as it fits, yada yada yada, etc).

Weight came in 1450g per boot in 26.5 WITHOUT footbeds, which is 38 grams heavier than my Scarpa Maestrale RS. However, the walk mode is better/easier to use, articulates more freely, especially rearward, and the Hoji-lock system delivers in its claim to lock the cuff in downhill mode with no play, allowing for a truly progressive flex. This is the most "alpine like" feel in a dedicated touring boot I've ever felt.

I have a wide-ish forefoot (100mm+), a high instep, and a (maybe) narrowish heel. The footbox is roomy like many Dynafit boots including the Hoji Free, but the instep volume is VASTLY improved. Heel hold with a good liner mold is great. My biggest challenge in ski boots is usually avoiding the clamping pain on top of my foot. A simple foam padding on my instep before molding and I had no issues. I didn't have to pad the sixth toe area at all.

I was skeptical about the "set and forget" Hoji-lock system as every boot I've used in the past that claims something similar inevitably requires some fiddling on the transitions. I'm now a believer and will put Eric Hjorleifson and Fritz Barthel on the top of my list for Nobel prize winners and "People who have changed my life forever". I put the boot on at 7am, buckled it up like I was going to ski downhill, and all I did for the next 6-7 hours is lift the lever up, and down. Didn't even touch the power-strap. I'm still a little blown away. It's ironic that my fastest transitions are now on my heavy gear.

So bottom line this will probably replace my Maestrale RS as my touring "beef" boot. For reference, the other boots I ski are a F1 LT (light) and the standard F1 (everyday touring). My main goal in replacing the Maestrale RS was to find something that had a better walk mode, skied as strong or better, and be the same or lighter weight. The Radical Pro checks two of those boxes with aplomb, and is so much better at walking and skiing, that I find myself happily giving up the 38g per foot. Thinking about my day out on them, they didn't "feel" any heavier than my Maestrales, and I firmly believe that the improved articulation saves a lot more energy than simply shedding a little weight.
Chistof—

I have similar issues with top foot. How does adding a pad foam padding (adding compression) mitigate the pressure up top?

Thank you!!

Mine
The foam pad (usually a small oval piece of dense foam) is stuck on the top of your instep before you heat mold the liners. This is pretty standard practice by most bootfitters if you have a high instep. This helps create more space on top of the foot during the heat molding process. The pad is discarded afterwards and not used for skiing, only the initial liner mold. Hope this clarifies things.
Thank you Christof!! I have toggled between the F1 and Maetrale as well. This is great information. What skis do pair with these? Crampons?

Thanks again for your feedback. Helpful.
My everyday boot has been an F1, Movement Free Tour, Dynafit TLT8, etc. and I only pull out the Maestrales (and now Radicals) for the deepest days on big skis like a G3 Seekr 110, DPS Wailer Tour 112, and I might be trying out the Voile Hyper V8 this year for my powder crusher. Anything in the mid 100s waisted category or less and I'm using a lighter boot. That's just me. I did pair them with my DPS Pagoda Tour 106 a few times this year and it was an awesome combo.
"The tyranny of choices". So much high quality gear out there these days. The Dynafit/Hoji locking system is super intriguing.

Objective comparison DPS Pagoda 112 Vs Voile Hyper V8 IYO? Seems like both brands have their cult like followers.
Christof/Team Skimo—

If I could re-direct the conversation back to Maestrale RS vs Dynafit Radical Pro. How was heel hold/ lower shin fit? Was there too much space/play relative to Maestrales? Did you swap for an Intuition Liner? Any other thoughts / comments?
I didn't notice any real difference between the two. The Radical Pro liner is pretty close to an intuition style foam and molded very nicely, both with the high instep issue and formed a good heel pocket that I haven't had any issue with.

As for the DPS Pagoda 112 vs Hyper V8, the pagoda construction while still light for it's performance, is noticeable heavier than its previous tour 1 construction and also heavier than Voile's hyper construction so for me the Pagoda 112 is no longer a contender for a "light" powder tourer. Also, the Wailer 112 shape has such a tight side cut and is so rockered and easy skiing and playful (a big reason people love them) I have to ski it AT LEAST in a 184 or it just feels too squirrelly. So that adds even more weight and makes touring/kick turns that much harder. The V8 seems to be playful enough but not quite as "radical" a shape. And the hyper construction weight is hard to beat. That's my .02
Comment on this review:


Any idea when larger sizes will be available? Looking for something like a 31.
Hey Russell, thanks for reaching out! We likely won't see any size 31 until the fall, but I just set up an inventory alert for you so you'll get an email as soon as we receive them!
Answer this question:


Do these work with shifts?
Hey Walter, Dynafit designed and marketed this boot to be compatible with Salomon/Atomic Shifts, and they are compliant with the ISO 9523 norm.
Answer this question:


Want to grab a 26.5. Do you know the bsl for this size?

Thanks
Hi Rob, just checked, those are 297mm.
Answer this question:


Do you know the BSL of the 25? Or if you'll be getting in a 24.5?
Hi Dana,

The 25.0/25.5 shell size has a BSL of 287mm. Additionally, there will not be a 24.0/24.5 shell in the Men's Radical Pro Boot.
Answer this question:


Anyone know the fit of the lower boot? Is it an ankle bone crusher like the hoji? Or normalish like the TLT? Stated last?
Hi Anthony, yes we've tried them on, definitely different than the Hoji Pro Tour and the Hoji Free. Last is wide like the Pro Tour (103ish), but much higher volume. No ankle issues noted.
So did dynafit do a little (big) fib on specs? They advertise as lighter than the pro tour at 1380 but you guys are measuring 1525?
Hi Anthony, yep, heavier that hoped. The prototype pair we measured was 1475 for what it's worth.
My 26.5 weighed in at 1450g per boot WITHOUT footbeds. Dynafit's website now states 1400g, but that's still quite the discrepancy. The good news? They ski and walk good enough I don't even care about the fudge in weight.
Answer this question:


When do you think these will show up?
Hi Coyne, we expect a small size run within a week.
Answer this question:


Earn store credit by writing reviews. Learn more.

Model: Radical Pro
MPN: 61914