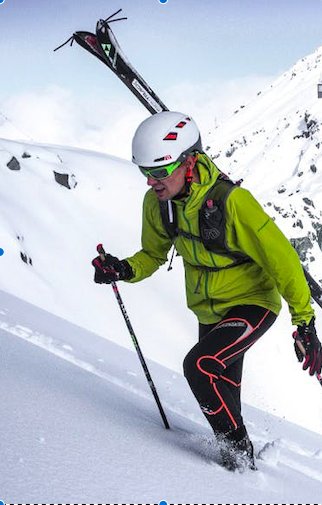 Jordan S
Gender
Male
Height
5' 9"
Weight
162 lbs
Shoe Size
US 8.50
Skier Type
Type II - Moderate
Ski Frequency:
25 - 50 days / year
My Skiing
I got into Skimo in 2016. I saw it as means for more efficient mountain travel in the winter rather than running. I always have liked the art of making a turn skiing, but never the downhill scene and culture here in CO. Skimo is totally not that, which is why I love it. I love big suffer fests up 14ers or massive traverses linking up chains of peaks. I'm also an avid nordic skier, cyclist, and runner.
My Gear
Boots:
Scarpa Alien 3.0 (highly modified)
Scarpa Maestrale RS 2.0 (un-modified)
Bindings:
Hagan Core 12 Pro (on my Atomic Backland 100)
Ski Trad Gara Titan
Skis:
Atomic Backland 100
Movement Race Pro 71
Recent Posts
I bought these skins a while back now for my race pro 71 skis, and overall they're decent. On the good side they weigh next to nothing and are so small you could fit them in a pants pocket. They also provide excellent grip in most conditions, but this is their main issue that I have noticed: when the conditions aren't soft i.e. corn before it has become corn, or in general icy snow, the grip these skins provide seems to be a little lacking to me. Nothing too bad overall, but I think next time I will get som...
These bindings are amazing. I've used them on all my skis and I absolutely love them. The toes are what everyone is talking about (they are exactly as good as stated above), but the heel piece is also pretty darn good. I think these are honestly a good set of bindings for anyone who doesn't need brakes on their bindings. The only minor complaint is that the toe lever is a little finicky to get right, but after some practice I was able to open and close the toe with only one pole.
This isn't exactly a question about this ski in particular, but I've been thinking about adding an even lighter ski to my quiver. My lightest ski currently is a Movement Race Pro 71 (775g), but to be perfectly honest I don't want to sacrifice a ton more downhill performance. Any thoughts on what the best downhill performing ski would be that's sub 730 grams or so?
I've bought this ski three times now, and I downright loved it. Honestly the perfect ski. I use it for everything. I've skied everything from speed laps at the resort, to big mountain objectives like the Grand Teton or Longs Peak. For me, this ski can handle surprisingly deep powder but still feels like a 71 on bulletproof snow. Overall, this ski is like a transformer, race ski on the way up, touring ski performance on the way down.