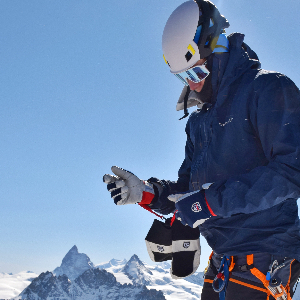 EG1
Gender
Male
Height
6' 1"
Weight
185 lbs
Shoe Size
US 10.50
Skier Type
Type III+ - Expert
Ski Frequency:
100+ days / year
My Skiing
Ex D1 college alpine skier - spend more days on touring setup than chairlifts now
My Gear
Long Days/Outings:
-Scarpa F1's
-Kastle TX87's w G3 ZED's

Quick Laps/Powder
-Scarpa Maestrale
-G3 ROAMr's w G3 ZED's
Recent Posts
I was excited about the optionality to use/remove a brake on this binding depending on the type of skiing I was doing. Quickly realized that they're not very strong and do make the binding less pleasant on the up (they rattle a bit, often freeze making transitions more annoying also). I stopped using after losing one on a deep day while going up (no idea how that happened).
Good helmet - have "abused" but luckily it hasn't had to save my life, either. The adjustment is easy to snug down with gloves on as well. Would keep in mind that given the light weight foam, the side to side rigidity here is quite poor like other climbing helmets. So, for full pack ski traverses - just keep in mind you can't put a body weights worth of a push to stuff your bag closed without the chance of cracking this if its on its side somehow. I somehow managed to snap the rear clasp closure off (not ...
Perfect tool. Small, packable and who cares what it weighs when it saves you from limping it back to the car on a bum binding.
I'm impressed with the durability of this pole given the fact that it is relatively normal foam on the grips they are aluminum shafts. I've shoved these on the sides of many packs next and dragged them across rock while approaching summits and never had an issue with bending or denting. Also, I strap them to skis with G3 ZED's on them and the bindings often close on the grips, temporarily depressing the foam but never ripping it or pulling it off the pole. Tips are really strong as well - no issues with sna...
Bomber boot. I find these to be the best touring boot when it comes to uphill/downhill performance I have ever used. I have been on Maestrale's, Lange XT 130's and spent a past life in plug race boots - so I think my opinion is quite balanced. Some thoughts: - The LT's (which I also have tried) give up a lot when comes to skiability. I would go with the classic F1's, personally. - Some people seem to remove the top strap (liner focused). I find this to be a "must keep" as you can really get good purchase...