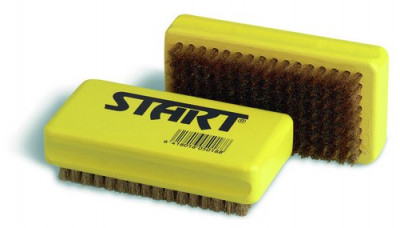 Start Brass Brush
0 reviews
Proper brushing is a must for ski maintenance, and that should always begin with the use of the Start Brass Brush. As a first pass before, or after the waxing process, this brass brush will do the heavy lifting by breaking dirt free from your bases after a long day in the backcountry, or is the perfect choice to use once your skis are ready for the brushing phase. When waxing your skis, follow up with the Start Nylon Brush for the perfect finish on your ski bases before heading out for your next adventure. If you want to run it out all the way to the car, proper base maintenance is key, which get kicked off with the Start Brass Brush.
Brass is strong enough to break up dirt or fresh wax, but soft enough to avoid base damage.
Sturdy build makes holding the brush easier for more efficient work.
High quality build will last you for seasons to come.
Questions & Reviews
Earn store credit by writing reviews. Learn more.

Model: Brass Brush
MPN: 05018
UPC: 6418016050188