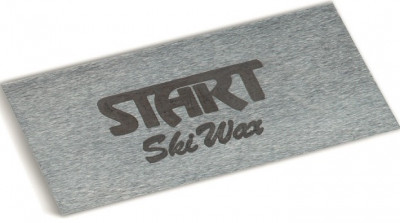 Start Metal Scraper
1 review
Start's Metal Scraper is just that, a metal scraper made by Start. A key tool of any ski workshop, the metal scraper can be used for a variety of things. Most often it will be seen scraping newly added P-Tex off the base of your skis. Be sure to add a fresh coat of wax after a good repair job.
Questions & Reviews
How wide is the start metal scraper
Answer this question:


Under-rated piece of tuning equipment. A good steel scrapper needs to be in every starter tuning kit (especially if for a backcountry skier). Will serve many uses from P-Tex repairs to knocking down damaged base material.
Comment on this review:


Earn store credit by writing reviews. Learn more.

Model: Metal Ski Scraper
MPN: 05009
UPC: 6418016050096