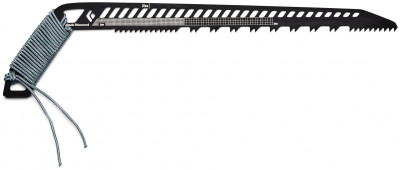 Black Diamond Guide Snow Saw
0 reviews
Black Diamond's Guide Snow Saw is a unique multitool. Sure it rips through snow with the razor-sharp teeth, but it also has bonus features that are just what you need when you pull it out. There is a pit cord attached for cutting ECT blocks that stores on the handle, potentially helping with grip while sawing. Also integrated is a crystal card so it really is an many-in-one snow science tool. Maybe they couldn't squeeze in a magnifying glass or maybe that will be in the next version. Either way, the Black Diamond Guide Snow Saw is a super versatile cutter that clocks in at an impressively light weight.
- Teeth are optimized for cutting hard snow.
Integrated crystal card lets you size up the danger.
250cm of 3mm polyester cord for cutting large blocks.
Pit-cutting cord wraps conveniently around the handle.
Comes with lightweight sheath to protect your pack.
Questions & Reviews
Earn store credit by writing reviews. Learn more.

Model: Snow Saw Guide
MPN: BD102193
UPC: 793661501299