Jonathan S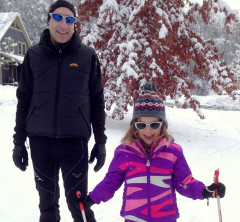 Gender:
Male
Height:
5' 8"
Weight:
145 lbs
Shoe Size:
US 9.00
Skier Type:
Type III+ - Expert
Ski Frequency:
100+ days / year
Learn more about me at:
http://nerandorace.blogspot.com/
My Skiing
I grew up skiing at a small local NY hill (where Max Taam also first skied!) and eventually was an NCAA alpine race coach for (too) many years, although my SL & GS skis now get almost no use, and I even sold my SG & DH skis.
Since 1999, I've become increasingly into self-propelled skiing, and for eleven years now I've been averaging over half a million vertical feet for earned turns each season.
Given the fickle NE natural snowpack for backcountry powder, I often train at local ski areas and organize a multiple-venue skimo race series.
But my favorite time of year is when the wx and avy danger clears up for long 10k+ multiple-ravine tours in our Presidentials range, plus of course late spring and summer PNW volcano trips.
The best ski tours though are out our back door for xc w/ my wife & our daughter!
My Gear
Boots, sz42 Alien 3.0 + sz26 PG/RC1 (former skis noticeably better; latter noticeably lighter, but shaved down all toe box liner foam for my big toes so tolerable only for >20F)
Ski, all w/ race bindings (Plum, Dynafit, rebranded ATK, incl. some ISMF-banned Dynafit toes + Plum heels combos):
La Sportiva Nano 172 (deep unconsolidated snow)
Dynafit Denali 168 (winter powder, more versatile than Nano)
Volkl VTA 88 Lite 170 (winter ski mountaineering)
Dynafit Cho Oyu 166 (mixed days of compacted ski trails & glades-- impulse buy!)
Trab Magico 164 (spring ski mountaineering)
Dynastar Mythic Vertical 162 (could be used for almost anything, 87mm + crazy lightness -- even tho it was an impulse buy!)
Movement Big Fish-X 160 (late-spring & summer ski mountaineering)
Hagan Ultra 65 (fixed mount for 3.0), X-Race (ditto for PG), pre-rocker X-Race (setting courses & loaners)
Movement Logic-X 169 (rock skis, still light, but no rocker)
Recent Posts
I'm on my fourth season with a pair of the Ultra bindings, now upgraded with the new U springs. My only complaint about the binding previously has been that like with all Ti springs, they eventually notch and need to be replaced. But these new springs are brilliant: they weigh essentially the same, but the sections contacted by your boot heel inserts when skiing are steel, not Ti. And the miniaturization of the roll-in feature with the Torx fastener insert is impressive. Overall, yet another manifestat...
For years I scoffed at these since they reminded me of the old bulky 1980s "boot muffs" (which would scoop up snow as you skied along with any decent amount of angulation), like so many other totally dorky alpine downhill accessories (e.g., the original Ski Tote). Plus real Skimo Bros (TM) just suck it up & deal when it comes to cold toesies. However, my only regret now is not buying these earlier: he increase in warmth is immediately noticeable! And they work so well with skimo boots that if they came ins...
Really nice beefed-up lycra pant, noticeably warmer than a typical lycra race tight. I've been using them for dawn patrol outings that are followed by a few "victory laps" on the lifts. Bonus points for the rear pocket, which is great for gels, etc., although wouldn't want to put anything mission critical in there. The lower leg has the same nice protective material and just-right slim fit as the DNA 2 race suit. However, major caveat in that it lacks a stirrup. For a boot like the Alien 3.0 with a bikin...
Very nice compromise between a typical lycra race top vs a typical soft shell: noticeably more warmth & wx protection than the former, but very minimalist by soft shell standards. Hood is also a huge bonus compared to the typical race top, with skin-specific pockets on the inside that are almost always lacking in a typical soft shell. And sleeve cuffs have the little slits that can be used to view a watch or employed as thumb holes. My only compliant is that I wish the jacket had a smaller zippered poc...
Just a quick Captain Obvious addendum to my review: you can use different notch positions for the cord on the LeftRight side of each crampon, as this will not impart any skew to the crampon fit, because the cord is a continuous self-equalizing loop.