Jonathan S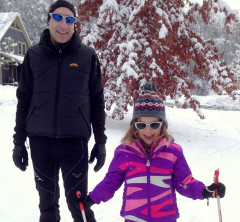 Gender:
Male
Height:
5' 8"
Weight:
145 lbs
Shoe Size:
US 9.00
Skier Type:
Type III+ - Expert
Ski Frequency:
100+ days / year
Learn more about me at:
http://nerandorace.blogspot.com/
My Skiing
I grew up skiing at a small local NY hill (where Max Taam also first skied!) and eventually was an NCAA alpine race coach for (too) many years, although my SL & GS skis now get almost no use, and I even sold my SG & DH skis.
Since 1999, I've become increasingly into self-propelled skiing, and for eleven years now I've been averaging over half a million vertical feet for earned turns each season.
Given the fickle NE natural snowpack for backcountry powder, I often train at local ski areas and organize a multiple-venue skimo race series.
But my favorite time of year is when the wx and avy danger clears up for long 10k+ multiple-ravine tours in our Presidentials range, plus of course late spring and summer PNW volcano trips.
The best ski tours though are out our back door for xc w/ my wife & our daughter!
My Gear
Boots, sz42 Alien 3.0 + sz26 PG/RC1 (former skis noticeably better; latter noticeably lighter, but shaved down all toe box liner foam for my big toes so tolerable only for >20F)
Ski, all w/ race bindings (Plum, Dynafit, rebranded ATK, incl. some ISMF-banned Dynafit toes + Plum heels combos):
La Sportiva Nano 172 (deep unconsolidated snow)
Dynafit Denali 168 (winter powder, more versatile than Nano)
Volkl VTA 88 Lite 170 (winter ski mountaineering)
Dynafit Cho Oyu 166 (mixed days of compacted ski trails & glades-- impulse buy!)
Trab Magico 164 (spring ski mountaineering)
Dynastar Mythic Vertical 162 (could be used for almost anything, 87mm + crazy lightness -- even tho it was an impulse buy!)
Movement Big Fish-X 160 (late-spring & summer ski mountaineering)
Hagan Ultra 65 (fixed mount for 3.0), X-Race (ditto for PG), pre-rocker X-Race (setting courses & loaners)
Movement Logic-X 169 (rock skis, still light, but no rocker)
Recent Posts
I was so reluctant at first to switch over to race bindings for regular touring -- how would I cope without a far higher riser position? Answer is, ehh, no big deal. But every now & then a little bit extra can help, so the Trofeo 180-degree is a nice plus for those rare occasions, yet with zero weight penalty or other complications. Otherwise, definitely amusing to pass tourers on regular gear who are constantly switching back & forth between various too-high riser positions...
I've had a pair of these under BD rebranding for two seasons now on an 87mm ski w/ Alien 3.0 boots. All my other setups have Dynafit and Plum race bindings, but ATK is now my new favorite, as everything is just so basic yet nicely refined: toe lever operates smoothly, ski crampon slot is easy to attach and has just the right tolerances for crampons, additional riser height is clever and effective (albeit not much higher), and the steel pins avoid wear yet have only a trivial weight penalty compared to the...
Ortovox provided me with a demo beacon to test this past winter (i.e., during January of 2021). Although the testing period window and my personal schedule did not provide me the opportunity to conduct as thorough a set of tests as I would have preferred, I nevertheless am quite confident in the following two main conclusions: 1. The voice guidance works nearly perfectly, and is a major enhancement to search performance for less-skilled searchers, i.e., the vast majority of backcountry recreationalists. ...
Five Stars for being perfect for its intended (albeit absurdly narrow) purpose with bonus points for actually being skiable (albeit with many caveats). I am now the second owner of Eric Carter's pair. The impetus for this project of sorts was to use them for a weeknight crit-style series (i.e., max ~425' vert laps, beginning the final ski > skin transition within an hour of the race start), remounted with bindings that are still functional yet too old and hence potentially suspect to mount on a new ski (i...
The protection for bright sun on snow conditions is just as good as any normal sunglass lens, i.e., other than glacier glasses. (For tours on snow-covered volcanoes in the summer, I use a different Julbo model whose lenses go up to Category 4.)