Jonathan S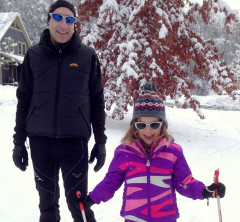 Gender:
Male
Height:
5' 8"
Weight:
145 lbs
Shoe Size:
US 9.00
Skier Type:
Type III+ - Expert
Ski Frequency:
100+ days / year
Learn more about me at:
http://nerandorace.blogspot.com/
My Skiing
I grew up skiing at a small local NY hill (where Max Taam also first skied!) and eventually was an NCAA alpine race coach for (too) many years, although my SL & GS skis now get almost no use, and I even sold my SG & DH skis.
Since 1999, I've become increasingly into self-propelled skiing, and for nine years now I've been averaging over half a million vertical feet for earned turns each season.
Given the fickle NE natural snowpack for backcountry powder, I often train at local ski areas and organize a multiple-venue skimo race series.
But my favorite time of year is when the wx and avy danger clears up for long 10k+ multiple-ravine tours in our Presidentials range, plus of course late spring and summer PNW volcano trips.
The best ski tours though are out our back door for xc w/ my wife & our daughter!
My Gear
Too much gear?
Boots = Mix of sz 42 Scarpa Alien 3.0 and sz 26 Dynafit RC1 (former skis noticeably better, but latter noticeably lighter, although had to shave down all the foam in the liner toe box to fit my big toes, so tolerable now only for temps >20F!)
2018-19 quiver (all w/ Plum & Dynafit race bindings, including some "mixed" setups):
La Sportiva Nano 172 (deep unconsolidated snow)
Dynafit Denali 168 (winter powder, and far more versatile than Nano))
Volkl VTA 88 Lite 170 (winter ski mountaineering)
Dynafit Cho Oyu 166 (mixed days of compacted ski trails & glades-- impulse buy!)
Trab Magico 164 (spring ski mountaineering)
Movement Big Fish-X 160 (late-spring & summer ski mountaineering)
Hagan X-Race & Ultra 65
And for very low-snowpack conditions, old Movement Logic-X 169 (still light, but no rocker)
Recent Posts
I've been using these for many years in a red ATK color scheme (distributed here by Hagan), and now have these all-black versions from my Helio 180 bindings. Either way, a big improvement upon my prior homemade leashes from accessory cord. Plus the clip attachment is easy to manipulate with gloves, and the loop is easy to girth hitch through some part of pretty much any binding toe. The only part that is tricky is coming up with an attachment point on the boot that is bomber for late-spring and summer sk...
Mine are installed on the Helio 180. I also did a test fit on the Hagan Ultra (same as Helio 110). Very solid design, both with regard to attachment to the binding toe piece and with regard to the attachment with the crampon. I've used a pair of Helio crampons with them, but I also test fit several different pairs of Dynafit crampons, and they were all fine -- both relatively easy to insert the crampons, and fairly smooth removal.
This is the same adjustment plate that ATK has been selling for many years, but is still a great design: really long adjustment track given the minimal weight penalty and relatively minimal impact on heel>toe delta. Allows you to get away with a lot when remounting a setup so that the new holes for the plate effectively "bridge" the holes for a prior binding. So go ahead and mount up those new skis with a zero-adjustment binding since the boots you currently have are the best boots ever and you'll never ev...
I have the 86mm model. I bought them for an 84mm ski width, but they also work just fine with another ski that has a stated 87mm waist. I've used them ATK/BD bindings, but I also test-fitted them in the more basic slightly bendable crampon clip that came with older Plum bindings and the Dynafit LTR/SSL. Fit is fine, slides in relatively smoothly, and comes out with the right amount of ease. Compared to my Dynafit 90mm crampons, the attachment bar is very similar. The teeth look more aggressive, although...
My new favorite binding for my non-race setups -- all my others are either Plum or a mix of Plum heels and Dynafit SSL toes. Technically I have the 180, although since I initially mounted it without the adjustment plate, functionally I'm using the equivalent of the 145. Details at my review of the 180, but everything just works really smoothly (as it should of course), and is nicely refined from ATK's constant evolution of its basic binding design over the years. The big decision is whether to save $ initia...