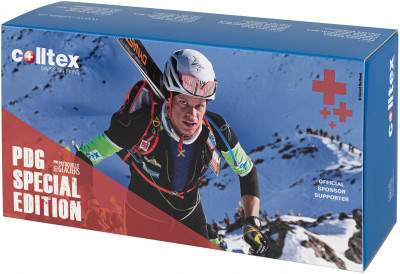 Colltex PDG Special Edition Box
0 reviews
$229.95
In Stock & Ships Today
The God of skiing on Mount Olympus is Alpinisios Skimosius and right now we suspect he has a position at Colltex because someone released the Colltex PDG Special Edition Box straight from the gods. This box set includes everything you might want for a race set up from Colltex; it even comes with a sweet headband! The PDG Special Edition Box includes a pair of PDG Race Skins, a pair of training skins, universal wax, skin proof, and the aforementioned sweet headband. The PDG race skin is known for its tremendous glide, long life, and strong grip. With this box including different skin types, Colltex sought to keep you equipped for a full season of racing and training. By providing both a race skin and a training skin option they have taken away the need to use up your best skins on those brutal interval days, or long slow days to build that race base. The PDG Special Edition Box comes in at a modest cost for being a combo set-up, with a proven race skin, well-rounded training (or backup) skin, wax, and skin proofing included.
100% Mohair race skin with excellent glide and grip, proven to be a highly competitive race skin.
65%/35% Mohair/Nylon mix training skin gives extra durability for those increased training hours.
Skins are 62mm wide and 170cm long to accommodate race ski dimensions.
The kit includes one pair of race skins, one pair of training skins, a headband, skin proof, and wax.
Questions & Reviews
To clarify- is this two pairs of skins or two individual skins? The wording says 'skin' but I'm not sure why a single skin of each would be sold.
Hi Jacob, it is two pairs of skins! I have tweaked the wording to clarify.
Answer this question:


Earn store credit by writing reviews. Learn more.

Model: Colltex PDG Box
UPC: 7611818110350