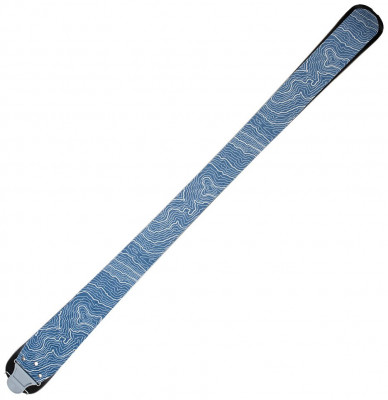 Contour Kids Skins
0 reviews
Junior backcountry skiers have been flying under the radar of product developers; it's been hard to get properly-sized equipment. When covering junior skis with climbing skins, parents would end up throwing half of the material in a standard kit in the garbage. Thankfully, product developers at Contour saw this issue unfold and decided it's time for a kit with less material and associated price. The Kids skin is aimed at junior skiers on planks up to 95mm wide and 140cm long. The skin itself is a nice mohair-mix and it comes in a streamlined package for kids. Just cut to length and trim the sidecut, no other installation or hardware required. Thanks to Contour, getting a set of skins for your grom is now as easy as learning to pizza and French-fry.
Rubber tip-bracket is durable and allows for rip-from-tip transitions.
No tail-strap means less weight/volume, easier fitting, and a chance to teach your kids skin-glue management.
Generous 95mm width and ample 125cm length out of the box.
This glue is less-grippy (yet still adequatly grippy) than adult skins, helping younger and smaller arms to rip their own skins.
Questions & Reviews
Earn store credit by writing reviews. Learn more.

Model: Hybrid Kids Skins
MPN: CR5810
UPC: 9005528595251