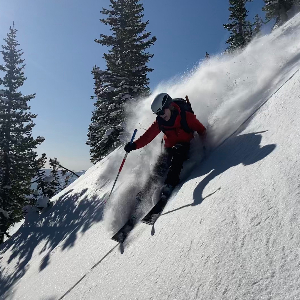 Tristan M
Gender
Male
Height
6' 0"
Weight
195 lbs
Shoe Size
US 11.00
Skier Type
Type III+ - Expert
Ski Frequency:
100+ days / year
My Gear
Boots: Scarpa F1

Skis: Movement Alp Tracks 95
Bindings: Ski Trab Titan Vario.2

Skis: Elan Ripstick Tour 88
Bindings: ATK C-Raider 12
Recent Posts
Hi Kevin, Think of the Movement Race Pro 85 as a larger dimension race ski. Stiff and with a larger turn radius, very good at getting from point A to point B. For your application, I would say it is less forgiving than you are looking for. Based on your skiing style and intended use, I would point you towards the Movement Alp Tracks 85, as it is still a very lightweight ski, with a more forgiving construction. If you prefer a tip rip skin, the Atomic Backland UL 85 would be the better option. This ski ha...
Hi Ryan, The Palau Power LT will likely be a pretty close fit to the stock liner In the Tecnica Zero G Tour Pro Scout. If you are looking to take up some extra volume, I would consider the Intuition Pro Tour in a MV.
Hi Nik, Thanks for reaching out! The clear lenses are not included with the Dynafit Ultra Evo Sunglasses, nor the rest of the eyewear range.
Hi Dan, Unfortunately, the Marker Kingpin Adapter will likely not work with the TLT6, and even if you are able to get the adapter on a TLT6 with modification, that is not an approved combination for the Fritschi Tecton.
Hi Traesa, Thanks for reaching out! Your decision on which length of Salomon MTN Explore 88 boils down to a few pros and cons. If you go with the shorter length, you get a lighter ski that is easier to kick turn, and more maneuverable on the way down. However, the longer ski will possess more stability at speed, and more float in deeper snow. For what it is worth, I typically recommend that folks downsize in the backcountry. If you put a premium on stability at speed, go with the longer ski. Otherwise, g...