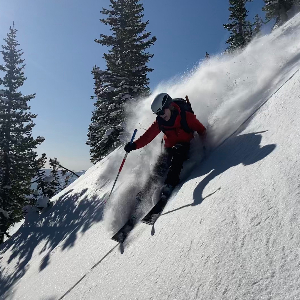 Tristan M
Gender
Male
Height
6' 0"
Weight
190 lbs
Shoe Size
US 11.00
Skier Type
Type III+ - Expert
Ski Frequency:
50 - 99 days / year
My Gear
Skis: Movement Alp Tracks 95
Boots: Scarpa F1
Bindings: Ski Trab Titan Vario.2
Recent Posts
Hi Michael, The Palau Tour Lite Pro liners will be quite a bit lower volume than your current Intuition Pro Tour Liners, which will make for a higher volume fit in your boots. The closest to the Pro Tour LV that we have from Palau is the Palau Power LT. Also, for availability on Intuition liners, reach out to help@skimo.co, and we can set you up for a notification that will alert you when your size in a Pro Tour LV comes in stock!
Hi Mark, Send us an email to help@skimo.co with a photo of the tail strap that still has a clip, and we are happy to brainstorm solutions from there!
Hi Dustin, Taking photos throughout the deconstruction process, and using the other boot in the pair for reference can be a helpful. Otherwise, shoot us an email to help@skimo.co, and we would be happy to walk you through the process.
Hi Michael, Unfortunately, Ski Trab does not make a brake wider than 94mm for the Vario.2. Brakes can often be bent to accommodate a wider ski, but bending from 94mm to 106mm would not work. Feel free to reach out to help@skimo.co for other solutions!
Hi Brad, Based on your dimensions, I would say the 183cm length makes sense for a daily driver length. However, if you are looking for something spring specific, I would consider the 178cm length. The 183cm length will offer more float. However, the shorter length will be more maneuverable, and lighter for those really long days! Also, for tight quarters, the 178cm length will definitely beat out the 183. For further ski questions, feel free to reach out to help@skimo.co!