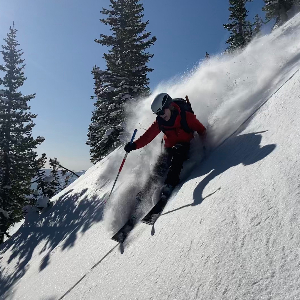 Tristan M
Gender
Male
Height
6' 0"
Weight
195 lbs
Shoe Size
US 11.00
Skier Type
Type III+ - Expert
Ski Frequency:
50 - 99 days / year
My Gear
Boots: Scarpa F1

Skis: Movement Alp Tracks 95
Bindings: Ski Trab Titan Vario.2

Skis: Elan Ripstick Tour 88
Bindings: ATK C-Raider 12
Recent Posts
Hi WCJ, Happy to weigh in. The Voile Hyper Manti is a great all around ski. With a shape aimed at a wide range of conditions, it will float in powder, handle in the trees, and hold an edge in more variable snow. typical of Voile skis, the Hyper Manti is playful, with a more manageable turn radius. It will be lighter than the Elan Ripstick Tour 104. The Elan Ripstick Tour 104 is a super versatile ski. It has a medium turn radius, with a really lively feel. Although heavier than the Hyper Manti, that weigh...
Hi Eric, I have had the chance to get out on the Elan Ripstick Tour 104! Here is my rundown: The Ripstick Tour 104 has a flatter supportive tail, with a rounder flex in the tip. It is quite damp, with a medium turn radius. I find this ski has tons of energy, and works well with a wide range of skiing styles. It is pretty easy to bring around, but is still a great platform to push off for harder charging skiers. This ski really shines in variable snow. It will do a great job of absorbing whatever cascade c...
Hi Tom, For skis 117mm underfoot, I would definitely go with the 120mm brakes!
Hi Evan, Let's talk skis! You are totally correct, the Volkl Rise Beyond 96 has been flying under the radar. The 3D sidecut makes these skis friendly to a wide range of skiers. They are surfy in powder, while still being good fun on corduroy, and surprisingly damp for their weight. Based on your ski history, this would be a great option. On to the Helios. In my mind, the 104 is more of a powder ski. It will be a little less versatile across all seasons, especially firm spring snow. The new ski wil...
Hi Jason, If you are looking to add some power to your TLT8 boots, while also taking up some additional volume on the stock liner, the Palau Power LT is a great place to start. Just a heads up, this liner will add friction to the walk mode, and will take up some additional volume in the cuff area as well. If the cuff is already snug in your boots, a beefier liner will make it pretty hard to close! If you have further questions, feel free to reach out to help@skimo.co!