Dalbello

Founded by Alessandro Dal Bello, Dalbello is an Italian ski-boot manufacturer that specializes in designing products with efficient performance and technical-oriented construction. Dalbello is an award-winning brand, supported by, and designed for, Olympic athletes and everyday snow lovers. Since their opening in 1974, the Dalbello family has exercised tremendous care and attention to detail with every product iteration so as to always improve and listen to customers. The moment you buy a boot, you're a part of the Dalbello family.
The Dalbello Quantum Free Asolo Factory is a meaty boot with a vegetarian weight. This balanced diet allows you to save energy on the skin track so you stay fresh for when it matters the most - ripping down the ski line. The two-part mid-entry cuff is eas..
$749.95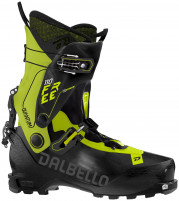 "What goes up must come down." This inescapable reality is what makes our sport so great, and at times, so cruel. Because of this, manufacturers have been hard at work searching far and wide to find the perfect ratio of uphill efficiency to downhill perfo..
$649.95
It may seem like a stretch, but you can indeed get "rad" on both the up and the down with Dalbello's Quantum Free 105 ski touring boot. Don't call it a comeback, but purple and pink bring a retro look to the touring scene. From a brand that knows its stuf..
$649.95