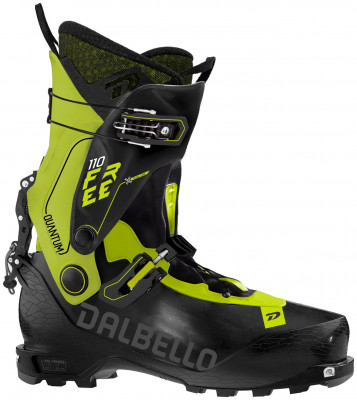 Dalbello Quantum Free 110 Boot
0 reviews
"What goes up must come down." This inescapable reality is what makes our sport so great, and at times, so cruel. Because of this, manufacturers have been hard at work searching far and wide to find the perfect ratio of uphill efficiency to downhill performance. With the Quantum 110, Dalbello has seemingly found the answer. The generous 65° range of motion will make the 4-hour approach feel manageable while the supportive 110 flex will let you enjoy the fruits of your labor. Most of the boots within this category sport BOA/Velcro enclosure systems, but the Quantum 110 has two real buckles which have the benefit of simplicity and added durability. And when the going gets too steep to skin, the dual-density Vibram sole will provide the traction you need to continue to confidently crawl upward on foot. The Dalbello Quantum 110 is the boot for skiers that dream of a balanced, versatile tool that performs well in just about every backcountry scenario.
Extra Dual Link provides 65° range of motion.
Dual-density Vibram sole provides grip during exciting bootpacks.
Bonded Shell construction is light and stiff.
Two dedicated buckles for increased durability.
A full-length bootboard provides insulation against cold conditions.
Specifications
Weight
convert to ounces
1200g
Weight (pair)
2400g
Buckles
2
Boot Sole Length
275mm [24.5]
285mm [25.5]
295mm [26.5]
305mm [27.5]
315mm [28.5]
325mm [29.5]
335mm [30.5]
Binding Compatibility
Tech only
Cuff Rotation
65°
Forward Lean(s)
Specs Verified
No
Design
Materials
Polyamide composite throughout
Liner
IF Touring Sport
Sole
Vibram dual density rocker
Skimo Co Says
Usage
Everyday touring, free touring
Notes
Lightweight 2 buckle "beef" boot
Bottom Line
Light and durable boot that will drive bigger skis
Compare to other Touring Boots
Questions & Reviews
Earn store credit by writing reviews. Learn more.

Model: Quantum Free 110