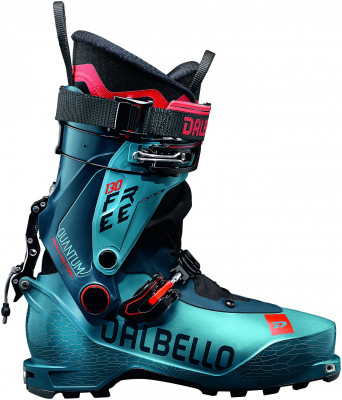 Dalbello Quantum Free Asolo Factory 130
1 review
$749.95
In Stock & Ships Today
The Dalbello Quantum Free Asolo Factory is a meaty boot with a vegetarian weight. This balanced diet allows you to save energy on the skin track so you stay fresh for when it matters the most - ripping down the ski line. The two-part mid-entry cuff is easy to get into and offers an impressive range of motion to keep you efficient on the uphill. When you're ready to transition, the cuff buckle cinches everything up securely and the ski/walk lever locks into place with a spring-loaded catch, ensuring solid and reliable performance in the downhill mode. A simple pull tightens the power strap and provides additional stiffness at the top of the cuff. Whether you're speed touring or driving wider skis on a deep powder day, the Quantum Free 130 is up for the task!
Extra Dual Link provides a 65° range of motion.
Dual-density Vibram sole provides grip during ridge scrambles.
Bonded Shell construction is light and stiff.
Two dedicated buckles for increased durability and performance.
A full-length boot board provides better fit and insulation against cold conditions.
Specifications
Weight
convert to ounces
1266g [26.5]
Weight (pair)
2532g [26.5]
Buckles
2 buckles w/ power strap
Boot Sole Length
275mm [24.5]
285mm [25.5]
295mm [26.5]
305mm [27.5]
315mm [28.5]
325mm [29.5]
335mm [30.5]
Binding Compatibility
Tech, Hybrid, ISO 9523
Cuff Rotation
65°
Forward Lean(s)
12°
Specs Verified
Yes
Design
Materials
Polyamide composite throughout
Liner
IF Touring Pro
Sole
Vibram Dual Density Sole
Skimo Co Says
Usage
Touring, ski mountaineering
Notes
Lightweight and high performing
Bottom Line
Innovative touring boot design
Compare to other Touring Boots
Questions & Reviews
Which is better in downhill between this one and la sportiva skorpius cr in your opinion? Thanks!!
Hey Francesco, thanks for your question! You are definitely onto something with this comparison as they are both designed as a "best of both worlds" incorporating touring walkability with power more typical of four buckle boots. I would say the Skorpius slightly outpunches the Dalbello in terms of downhill performance, but the bigger question is which boot fits your foot best.
Thank you Ian for your answer!! I saw that both boots have low volumes, La Sportiva maybe even more than Dalbello?
Answer this question:


My toes are wide and the dynafit 103mm wide boots feel comfortable.
Can I punch these boots?
Satoru- This boot is punchable but it is very narrow so you may not be able to get the width you need for a 103 foot with out collapsing the top of the boot.
My boot fitter just spent a whole day working on these. He said they are amongst the hardest boots to punch he's come across. We did get it quite a bit wider in the last (without collapsing the top) but the textured plastic area around the toes is really thick and almost difficult to alter specifically. Definitely worth the special effort if you can make it work! The walk mode is far superior to Hoji/Free/TLT8.
Answer this question:


I have Solomon MTN Lab's from their first year and these look strikingly similar and I've skied Dalbello alpine boots for 15 years so naturally my curiosity is tickled. These are def lighter and prob have better ROM, which is dam near reason enough to upgrade, but how might they differ on the down?
Hi Dillon, thanks for your question. While these boots may have some resemblances to the Salomons you mention, they will offer less power on the downhill, at the benefit of a much larger ROM. I would say a more apt comparison to the MTN lab is the
Lange XT3 Pro
.
Answer this question:


Is the Quantum Free 130 compatible with a ski of 96 mm and 1.6 kg, or it is not stiff enough for such wide/heavy skis? In comparison, you seem to have a preference for the Sportiva Skorpius in terms of stiffness. To how much would you rate the performance difference between the two boots for a woman of less than 60 kg? Thank you.
Thanks for reaching out, Miro. If you're after a balanced boot that tours and skis well, the Quantum Free could definitely drive your ski. If you're after something that emphasizes downhill performance, something from the
freeride
category may be the best option. Please let us know if you have any other questions.
Answer this question: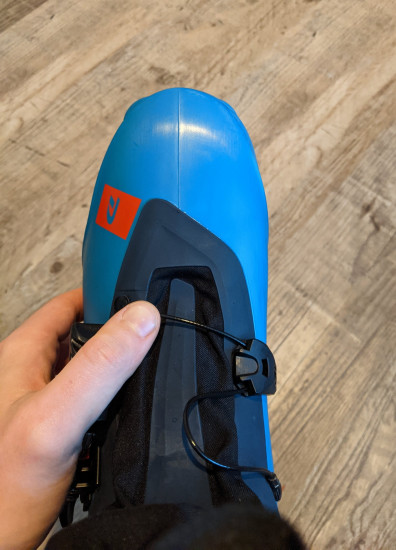 I received these but will be returning them unfortunately, due to poor personal fit, so I have not skied them but thought I could share some notes to help other buyers. (Shipping and customer service have been outstanding at Skimo btw) The size 30.5 weights 1550g on my scale. (My 29.5 MTN S/Lab weights 1820g) Its a beautiful boot with elegant and robust design in the shell, buckles, materials, walk lever etc. Fantastic mid-weight liner. The walk mode is unbelievable - it offers virtually zero friction and as much range as my ankle can support (forward and backward) even with the cuff fully tight! Based on the many boots I've tried on recently, I would describe the cuff volume as medium, ankle space medium, heel pocket on the snug side, low'ish instep height, and medium length for the size. Contrary to other reviews, I find the 30.5 to be true to size - compared to Dynafit and Salomon. It is however, incredibly narrow through the midfoot and forefoot. Def not "medium" imo. And the toebox is the single most tapered shape of any I've seen (and I've looked at many!). The medial side (big toe) tapers almost as far back as the lateral side and curves dramatically to the center point. The toebox is actually shaped like a spearhead, pointed at the exact center. This would be ideal if your 3rd toe is the longest on your foot and your big toe is relatively small.... but I have never seen a human foot like that. Very interesting choice on Dalbello's part. Anyway, maybe good for a very narrow US size 13 foot. I'm a US size 12.5 and can quite easily do both buckles up at the max setting. The lower buckle feels particularly nice in how it distributes pressure from the top, as opposed to squeezing the width of the shell. Flex testing in the kitchen: the forward flex is easy at first but ramps up with travel. Aka "progressive". Feels like very nice suspension. Overall, substantially less forward support compared to my 2019 Salomon MTN S/lab, but not concerningly so to me personally. Can't comment on rear or lateral stiffness. Hope that helps someone (like me). Good luck!
I think that might relate to size too. My feet measure around 28.5 cm, and am often in 28.5 with Dalbello, while some other brands, like Technica I can fit the 27.5. This was true for alpine, but also AT boots.

The width and inside length feels about the same for me in my Zero G Tour in 27,5 as my Quantum Free in 28.5. The BSL is nearly identical too (although as we know, this isn't really indicative of inside length).

But for me, the 28.5 Quantum Free offers me better room on that medial side and tip of the big toe, (which is very "straight", not angled to the center at all), than my 27.5 Zero G Tour.
Someone go to Italy and show them a picture of a human foot. It is seriously mindboggling that they believe human feet look like that shape.
Comment on this review:


How would you describe the toebox shape of the Quantum Free 130? I often struggle with excessive tapering on the big-toe side.
Hey Steffan, while with a 99mm last the boot is overall a narrow to medium fit, the toebox is fairly wide and square. If anything, the toebox tapers slightly on the outside (pinkie toe) but is unlikely to exert too much pressure on your foot in the toebox area.
Answer this question:


I am still torn over this boot and the Transalp Pro vs the La Sportiva Skorpius. I tried the Dynafit Radical Pro and it was too wide and high in the instep so that's out of the equation and gives a perspective on my foot.

I want to find a more touring oriented boot to complement my excellent freeride oriented Zero G Pro Tours for big distance traverses, big vert days and more ski mountaineering oriented outings, but I want to retain as much power as possible in the boot.

I'm 6'3" and 190lbs. Given slim calves and a relatively low volume foot, ankle and instep, with average fore foot which would be the better choice for me? They seem more similar than different.
Hi Brian,
The Dalbello Quantum Free 130 and Transalp Pro will be similar all around in terms of ROM, weight and stiffness.
The Skorpius's signature is low instep height. It also has a slender cuff and greater overall power which sounds appropriate for you given your goals.
The Radical Pro is beefier, taller and wider than the others you listed, falling into a different category for that reason. Before placing an order, feel free to use our
boot finder
to get a signoff from a fitter as well!
Thanks,
Ian
Answer this question:


Hello!
With which boots from Scarpa line (or other) the, could be compared in downhill fell? More like F1 or Maestrale/Maestrale RS?
Hey Mikhail,

Thanks for the question! The Dalbello Quantum Free 130 will ski much more similar to the Scarpa F1 LT than the Maestrale. It'll also ski quite close to the Fischer Transalp Pro.

If you have any further questions, feel free to send an email to help@skimo.co
Answer this question:


I was looking at three boots in this range for bigger vert, longer range days, the Dynafit Radical Pro,Fischer Transalp Pro and the Dalbello Quantum Free Osolo. I tried the Dynafit Radical Pro yesterday and it had too much volume over the instep and in the forefoot. How would these compare to those and the Transalp Pro? I presently am in the Technical Zero G Pro and have achieved a good fit with some fore foot punching for width.
Hey Brian, thanks for the question. Overall the Quantum Free 130 would fit somewhat similar to Transalp Pro and they have pretty darn similar stiffness and range of motion. I would go to say that if the Tecnica Zero G fits your foot fairly well with minimal punching the Quantum Free 130 wouldn't be too far off. Both boots are a fairly low/mid-volume fit but in my mind, after trying on both of the boots the Quantum Free 130 fits just a bit more uniformly wider and still has the ability to be punched. Let us know if you have any other questions!
Answer this question:


How would you guys compare this to the F1 LT on the downhill and fit? Thanks!
Hi Kyle,
Compared with the
Scarpa F1 LT
, the Dalbello Quantum Free Asolo Factory 130 has a stiffer cuff, which will translate to more power on the way down. Also, the Asolo Factory 130 has a higher volume fit than the F1 LT. It has a wider toe box and higher instep. However, it is pretty snug in the midfoot, and using a broader comparison, is still on the narrow side of the touring boot spectrum.
Answer this question:


What is the last width?
Thx
Hey Andre, thanks for the question. Dalbello markets the Quantum Free Asolo 130 as a 100mm last width. But like with all boots that number can vary a fair amount especially once you add a beefy liner into the equation. Let us know if you have any other questions.
Answer this question:


Talk to me about the fit. How do they compare with my tried-and-true TLT5?

TLT5 (perhaps along with the Salomon X-Alp) is the one boot that is both narrow and long enough for me at the same time.
Hey Eric, the Quantum Free A. 130 will fit a fair amount wider than the TLT5. Overall the fit is on the slightly narrower side but the boot feels roomier than some other truly narrow boots. The Quantum Free A. 130 does have a pretty beefy liner that comes stock with the boot so that is also something to consider.
Answer this question:


FYI I just weighed the 27.5s without the spoilers installed at 2720g for the pair
Thanks Frederick! I was thinking their list weight was too high. Looking forward to getting them on the official skimo scale ;)
Reply to this comment:


Have y'all skied this thing yet? Curious on how it stacks up to the Technica Zero G Tour Pro?

Cheers!
Thanks for your question, Ben. While this boot is very well balanced, it won't ski as well compared to the downhill-oriented Zero G Pro Tour. It does, however, have a better usable range of motion/weight that will make it a better companion for most on big vertical days. If you're after a boot that focuses on the down, I'd go with the Zero-G Tour Pro. If you want a balanced boot that combines efficiency with a good downhill feel, the Quantum Free 130 would do nicely. Please let us know if you have any other questions!
Answer this question:


Earn store credit by writing reviews. Learn more.

Model: Quantum Free Asolo Factory 130