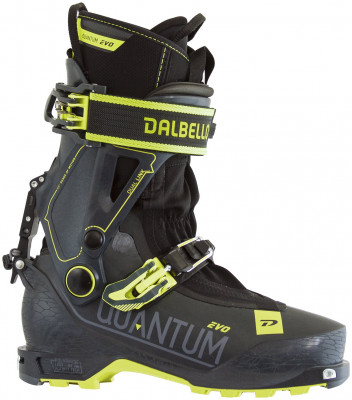 Dalbello Quantum Evo Boot
0 reviews
$999.95
In Stock & Ships Today
"Enjoy the way and celebrate the ride..." This summary by Dalbello does a great job of describing the purpose of their Quantum Evo boot. Designed to be mobile for big days yet stout enough to drive a low-fat ski confidently, the Quantum Pro is for those seeking to journey far from the trailhead and enjoy the journey. The narrowish fit with autofit tech foam in the heel helps protect against blisters and will be a welcome addition for those with lower volume feet. To make everyday ownership of the boots less tedious, the powerstrap buckle on the cuff features a smartly designed "set it and forget it" function, meaning less fiddling when you get to the trailhead. Because a boot like this won't be a stranger on icy ridges, Dalbello saw fit to use a Vibram Dual density sole, so you can confidently plod on. If you've been searching for a low volume, lightweight, and durable boot, the Quantum Evo should be on your short list.
Autofit Technology utilizes two memory foam pads on the heel, reducing blisters and allowing it to work with many different heel shapes.
Velcro power strap with a quick-release function is easy and simple to use.
Bonded shell keeps weight down while improving power transmission.
Full-length boot board helps with insulation against the cold.
Vibram Dual Density Rocker Sole supplies traction on icy ridges.
Specifications
Weight
convert to ounces
1000g [26.5]
Weight (pair)
2000g [26.5]
Buckles
2 Buckles
Boot Sole Length
285mm [25.5]
295mm [26.5]
305mm [27.5]
315mm [28.5]
325mm [29.5]
Binding Compatibility
Tech, Hybrid, ISO 9523
Cuff Rotation
65°
Forward Lean(s)
12°
Specs Verified
no
Design
Materials
Polyamide composite carbon
Liner
ID Evo pro
Sole
Vibram dual density rocker
Skimo Co Says
Usage
Light and fast ski mountaineering
Notes
Super free range of motion
Bottom Line
A competitive weight boot for fast and light skiing
Compare to other Touring Boots
Questions & Reviews
Is the boot shell any different from the Quantum Asolo Factory from a couple years ago? I see they added buckles instead of boa and cables, but is the boot functionally different beyond that?
Ben, All the Quantum's come from the same molds. Dalbello uses three different plastics that they mixed and matched in the different models. This one being the stiffest and lightest version. The big difference between models is the fasteners and the Liners. The 130 feel significantly different with its beefier liner.
Thanks Jeff! I see you have a 26.5 in stock, do you know the real world weight? If they are indeed 1000g I am intrigued
The 26.5 is 1060g . Actual weight
Answer this question:


So these boots will work with a mnc binding, iso 9523 ?
Hi Carbonj,

We just checked with Dalbello, the Quantum Evo is compatible with traditional tech bindings and the Marker Kingpin.
Hi Carbonj,

Just to follow up, sorry for the confusion, the sole of the Dalbello Quantum Evo is ISO 9523 compatible!
Answer this question:


Earn store credit by writing reviews. Learn more.

Model: Quantum Evo