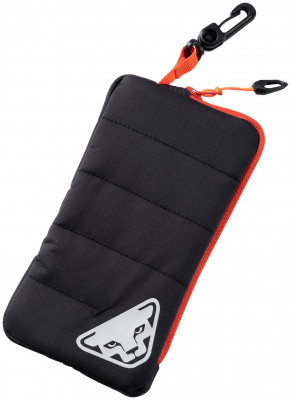 Dynafit Battery Life Saver
0 reviews
Let's start with what this product isn't. It's not a hard candy in the shape of a battery. It's not a battery-powered defibrillator, capable of saving your life. No, it's something much more important: the Dynafit Batter Life Saver will save the life of the battery in your Instagram device! Use this Social Media Life Saver to keep your phone warm and photo-ready, because if you didn't get the shot, did it even happen? As a bonus, you might extend the life of your navigation device which, in theory, could save your actual, real, in-person, physical life.
Use this case to keep your phone battery alive long enough to get a shot of EBunce's voluptuous behind when he skins past you-- it truly is magnificent.
The water-resistant and wind-repellent outer shell means that the integrated external hook can be clipped to your pack for a quick-deploy.
The same Primaloft insulation found in your coat is also in this wildly overbuilt Arctic-quality phone case.
Questions & Reviews
Do you know if this fits an iPhone XR? What are the measurements? Thanks!
John, inside dimensions are 3 1/4" x 6". That would a tight squeeze.
Answer this question:


Earn store credit by writing reviews. Learn more.
Model: Battery Saver
MPN: 71257
UPC: 4053866043434