Jeff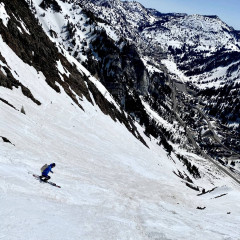 | | |
| --- | --- |
| Gender: | Male |
| Height: | 5' 10" |
| Weight: | 150 lbs |
| Shoe Size: | US 8.50 |
| Skier Type: | Type III - Aggressive |
| Ski Frequency: | 25 - 50 days / year |
My Skiing
Moved to Utah in 1979 and ski bummed at Snowbird for TOO long. But I quickly realized that untracked powder didn't exist long at the resorts and got my first Tele setup in 83. Been skiing backcountry since. Slow to the AT gear, but Skimo changed that. Style is slowly evolving from the Hippy powder turns to willing to open it up on occasion. Finally getting into touring in the Spring too.
My Gear
First AT setup is Spectres and Wailer 112 Pures with Radical ST 2.0. Heavy, but work very well at Alta on Powder days.
Now on Alien RS (size 26) Movement Alp Track 100 with Ski Trab Titan Vario.2.
Recent Posts
Marty, Sorry, Dynafit is out and actually, we never stocked it. Please email us at help@skimo.co if you need help choosing an overmitt.
Alex, The size 27 Medium sounds like the one for you. Which unfortunately we are out of. The Palau Power LT would be the second best bet.
Hey Joe, You can order either the Alien or F1 Boa Dial, same except for color. Don't have them in Orange yet. Yes, sounds like it is stripped.
Clark, Sorry, Marker is out of them for the rest of the season.
Bobby, you would need to use the Alpine touring soles with the Tech inserts. If you get this one, it comes with the heel pad. They are necessary to mount without a brake.