Jeff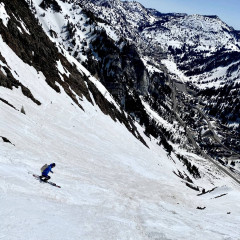 | | |
| --- | --- |
| Gender: | Male |
| Height: | 5' 10" |
| Weight: | 150 lbs |
| Shoe Size: | US 8.50 |
| Skier Type: | Type III - Aggressive |
| Ski Frequency: | 25 - 50 days / year |
My Skiing
Moved to Utah in 1979 and ski bummed at Snowbird for TOO long. But I quickly realized that untracked powder didn't exist long at the resorts and got my first Tele setup in 83. Been skiing backcountry since. Slow to the AT gear, but Skimo changed that. Style is slowly evolving from the Hippy powder turns to willing to open it up on occasion. Finally getting into touring in the Spring too.
My Gear
First AT setup is Spectres and Wailer 112 Pures with Radical ST 2.0. Heavy, but work very well at Alta on Powder days.
Now on Alien RS (size 26) Movement Alp Track 100 with Ski Trab Titan Vario.2.
Recent Posts
Hi Peter, Saw your name and had to help. As you have the Race Pro 71, you know how the Movement skis feel. For an all-around ski, I would recommend the LT 94 over this one. But we are sold out. The All-New Alp Tracks 95 is on its way. And should be an excellent all-around ski. The ZG 95 has a nice 95mm width and excels in hardpack and spring snow. Not the best floater as it is pretty stiff. Feel free to get a hold of me at help@skimo.co to delve deeper.
Stepan, The Speed Radical lever will work with this binding. Not 100% identical, but it will work.
Clement, They would be able to work. Without bending they will be close, may just need a tiny bend.
Logan, More than enough. My method is to take the Tail width, 120mm, minus 4mm for the edges. So you will have Full coverage except for a tiny amount at the widest part of the tip.
Albert, We might be able to help. Is this the binding you have - Movement. If so, email us at help@skimo.co and we will get you set up.