Jeff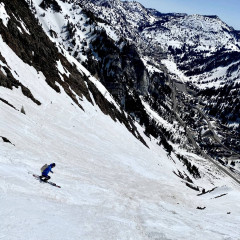 | | |
| --- | --- |
| Gender: | Male |
| Height: | 5' 10" |
| Weight: | 150 lbs |
| Shoe Size: | US 8.50 |
| Skier Type: | Type III - Aggressive |
| Ski Frequency: | 25 - 50 days / year |
My Skiing
Moved to Utah in 1979 and ski bummed at Snowbird for TOO long. But I quickly realized that untracked powder didn't exist long at the resorts and got my first Tele setup in 83. Been skiing backcountry since. Slow to the AT gear, but Skimo changed that. Style is slowly evolving from the Hippy powder turns to willing to open it up on occasion. Finally getting into touring in the Spring too.
My Gear
First AT setup is Spectres and Wailer 112 Pures with Radical ST 2.0. Heavy, but work very well at Alta on Powder days.
Now on Alien RS (size 26) Movement Alp Track 100 with Ski Trab Titan Vario.2.
Recent Posts
Hi Logan, Sorry we do not stock the 140mm and BD is currently sold out of all 3 sizes. Please email us at help@skimo.co and let us know what ski your are getting these for and see if we can help.
Hi Ben, The Hyper V6 is most at home in the backcountry. For light and easier kick turns for old knees (45 is more like in the Prime) the size 178cm would be sweet. If this is going to be your one and only for resort and touring, the Hyper Vector in the 183cm would be a better choice in resorts and BC. If you want to discuss more, please contact us at help@skimo.co
Hi Cass, you have some great questions here. The new Climb Pro S Glides have lighter backing this year, making them the same weight and packibility as the Climb 2.0. A slightly narrower 115 Minimist, with its nicely tapered tail, feels maybe a touch more packable than the Pomocas. G3 glue is sticker than Pomoca which could be good or bad depending on your climate and use. For a Pomoca skin with even smaller packability and weight, look at Free Pro 2.0.
Michael, Atomic did us all a favor and use the same pivots throughout the Backland boots, past and present. They are exact replacements.
Alex, for a more educated answer, please fill out our Boot fitter and we can get back to you on that. The Hawx is rather narrow, did the shop have to punch out a lot? The Travers have a wider last and probably would be a good choice.