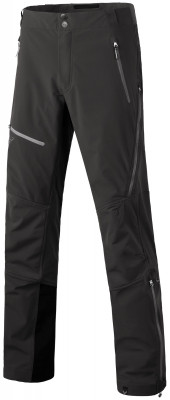 Dynafit Mercury Softshell Pant
2 reviews
The Mercury Softshell Pants designed for ski touring match just about anything, but especially coordinate with the Mercury Jacket. Asthetics aside, the 88% nylon / 12% elastane blend makes for a weather resistant and breathable garment without the use of expensive membranes. Several pockets, snow gaiters, and reinforced hems make the athletic-cut pant great for any on snow activity.
Light, highly elastic, single-ply fabric is stretch woven so you won't be restricted while roaming the mountains.
Warm, thin fleece lining stops at the boot top in front and at the top of the knee in back for articulation.
Dense nylon construction provides both wind and water resistance while still maintaining decent breathability.
Ventilation zips on the outside of the legs are essential for dumping excess heat or moisture in a pinch.
Cuff zips can be opened up or down, so you don't have to lift your pant leg for a buckle adjustment.
Abrasion resistance and an anti-microbial treatment make this appropriate for daily wear throughout the season.
Specifications
Weight
convert to ounces
651g [M]
Ventilation
Side zips
Pockets
2 side, 1 right thigh
Waist
Elastic and belt loops
Cuffs
Snow gaiters
Specs Verified
Yes
Design
Materials
88% nylon / 12% elastane shell, polyester lining
Skimo Co Says
Usage
Touring, mountaineering
Notes
No expensive membrane
Bottom Line
Functional and inexpensive pants
Questions & Reviews
Any chance you will be getting these in small?
Answer this question:


I purchased these to use as my main touring pant for this season of resort skinning and backcountry trips, with the additional intention of use for some recreational racing.

The fit is athletic / Euro, as to be expected with a Dynafit product. I'm 5'9", 165lbs with a 33" waist, and the US small fits perfectly. In the past I have had trouble finding pants that are tight in the waist, yet fit over my rather large thighs, but these seem to do the trick. The upper leg fits snugly, though perhaps a degree looser than full-on spandex. Around the calf and boot line, the pant is more loose. Length is perfect, with the bottom of the pant covering most of my boot-top and buckles.

As far as fabric goes, for the described intentions, this pant hits the mark. The outer softshell layer is stretchy and breathable, and seems to repel modest amounts of liquid as well as shield from most wind. (I have yet to encounter any serious precipitation, so I'll have to reserve judgement for the time being.) Inside there is a thin layer of fleece, which is comfortable against skin and provides sufficient warmth. Thus far, I've been able to wear these in temperatures as low as 15F / -10C without a baselayer underneath. Breathability is quite good - if you're coming from a heavier shell outerlayer, the difference will be noticeable (though I suspect this is a rare Skimo.co customer). The side vents, which extend from waist to knee, do a reasonable job of preventing overheating. For cold temperature climates and casual touring, the ratio of breathability to protection is perfect. In warmer temperatures or at a more grueling pace, however, something lighter might be preferred (with the caveat that I tend to run warmer than most).

Pocket space is sufficient - the two hip pockets are easily accessible, even with the close-ish fit. The thigh pocket may be useful for a map or something of equivalent size, but storage of anything larger would be uncomfortable when moving.

As another reviewer mentioned, the velcro on the cuff is somewhat of a nuisance, as it catches on clothing underneath. Additionally, while the gaiter is nice, it is somewhat tight on larger boots. As a result, with some boot styles or sizes, one might have to leave the lower portion unzipped/unsnapped to accommodate a boot cuff. It's also worth noting that there is no cutout for Dynafit Ultra Lock system, unlike some of their other pant offerings.

Overall, this is a great pair of pants for anyone looking to move quickly uphill, but wants added warmth and functionality of something heavier than spandex (though still reasonably light) at a reasonable price.
Comment on this review:


Have 2-3 days on these pants so far.

The fabric is way more on the breathable side, which is hard to find and is exactly what I was looking for. "Weather resistant" is a good term - rely on these to stay dry from sweat, not weather. I wore them for a couple hours in warm and wet falling snow, and they were completely soaked through by the end. For going hard though, or taking it easier on cold and dry days, the fabric is great.

The thigh vents are smaller than on most ski pants and have a mesh to keep snow out, which also restricts airflow slightly. I have found them to be adequate though.

They are comfortable to wear without a base layer. Wearing them with a base layer, the fleece lining adds some friction.

The front pockets are roomy and this is where I store my beacon. I don't notice it adding much resistance, as items in the pockets end up riding more on the inside of the leg/groin area than directly on top of the thigh. There is no beacon clip. On my thick legs, the thigh pocket is tight and can't store anything thicker than an iPhone, as it does not bellow at all.

The cut is definitely "pants", not "tights", although it is a bit snug on my thighs and more loose through the knees and calves. There is not much excess material though, and they are snug around the boot cuff. I would not be afraid of catching a crampon.

The velcro on the gaiter will rip up the inside of the pant fabric if you leave it undone, so pay attention to that.

My only real complaint is the snap buttons. I noticed this season with these pants and a pair from another manufacturer that they are using small and recessed button snaps. They are tedious to fasten even at home, and near impossible with cold gloved hands. These buttons are on the waist, gaiter, and outer cuff. The lower of the two waist buttons inevitably comes undone simply from moving around or operating the fly. I have seen that on two pairs of these pants, so it does not seem like a one off defect. Expect to wear a belt or possibly find your pants falling down.

Overall these seem like a good pant for someone who likes to go fast and sweats a lot but isn't ready to commit to tights. They are my go-to pants now and I imagine they will shine in spring ski mountaineering as well.
Comment on this review:


How well does a beacon fit in the pockets? The cut looks on the slim side and I wonder if it would feel bulky.
Hi Jake, a beacon fits easily in the pockets. However they are angled in a way that would put a beacon right on the front of your thigh, which causes some resistance with every step. Not my favorite configuration.
Answer this question:


My size is 32/30. what size would be best for me in either the Mercury or the racing pant?
Hey Nate, the smalls in either would work best for you. Those are a medium in Europe, and they aren't all that small.
Answer this question:


what's the best size in Dynafit Mercury pants? My normal waist/inseam is 33/33.
Hi Dane, I'm also a 33 waist and similar in inseam (probably closer to 32). The Medium fits great, plenty of length, I would recommend that.
Answer this question:


Earn store credit by writing reviews. Learn more.

Model: Mercury DST PNT