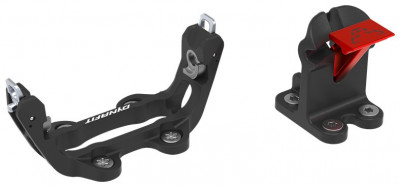 Dynafit P49 Binding
0 reviews
$799.95
In Stock & Ships Today
Dynafit is turning skimo race bindings inside out. Literally. Instead of a binding clamping onto your boot, with the P49 system your boot expands to click into a solid block of metal. It's a revolutionary new tech-system designed to be the fastest race binding possible. P49 is short hand for "Project 49", and at a wee smidge over 49g per side the binding weighs less than half that of traditional race bindings. Simple operation, improved system-stiffness, and full ISMF compatibility are all included.
Can I go up and down hill? Of course! By default the toe-piece will auto-lock, but included "ski-walk pins" can be inserted into the toe to allow it to laterally release, meeting the ISMF requirement of downhill releasability. In either mode, you just step into the system and then you're off! Just as in auto-locking bindings of the past, there is no need to flip a toe-lever. It's the ultimate in simplicity and speed. Just use the hands-free step in, skin away, rip skins, ski down, and repeat.
The heel piece is comprised of a carbon fiber tower with a notch that locks the heel tab of the boot down like a vise. When you step down, the heel tab of the boot flexes the tower towards the tail of the ski until it clicks into the notch. From that point on the bindings are ready-to-rock with very little flex in the system, but still allowing full lateral and vertical release. To skin up, flip an ingenious pedestal into place that prevents your boot from locking in. To exit the binding, press the flaps on the arms of the toe piece. Quite simply, the Dynafit P49 binding is the fastest way up, down, and onto the podium.
Light, simple, and clean with almost no moving parts.
Full vertical release and lockable lateral release.
Light binding platform with impressive system stiffness.
Touts a hands-free step in for lightning-fast transitions.
The entire binding weighs less than ½ of most other bindings.
Binding is only compatible with the Pintec boot.
Specifications
Weight
convert to ounces
51g
Weight (pair)
102g
Boot Compatibility
Pintec only
Brakes (mm)
None
BSL Adjustment
None
Riser Heights
1
Vertical Release
Fixed
Lateral Release
Fixed
Crampon Ready
No
Specs Verified
Yes
Design
Materials
Forged aerospace aluminum, carbon fiber
Skimo Co Says
Usage
Racing, esp. w/ DNA Pintec boots
Notes
The dream-child of simplicity, speed, and perfection
Bottom Line
Podium chasing weight
Compare to other Race Bindings
Questions & Reviews
Any updates on release values?
Hey Theodore, we still have not been able to test the release values on the binding. We did hear from Dynafit that the bindings will be getting an update for next year.
Answer this question:


any idea on release values?
Hi Steve, we have not been able to test the binding to get an idea of release value, yet.
Answer this question:


Earn store credit by writing reviews. Learn more.

Model: P49
UPC: 4053865807594