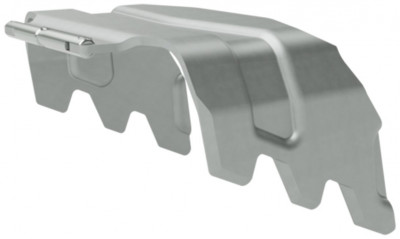 Fritschi Xenic Ski Crampons
0 reviews
Don't let some steep or icy snow spell the end of your day-- with the Fritschi Xenic ski crampons, you'll have enough traction to cruise up even the steepest slopes with ease. Using a Dynafit-style attachment system, the Xenic ski crampons fit a wide range of bindings, while the burly three-toothed design gives you a solid bite into icy, hard snow. A reinforced rib wrapping from side to side reinforces the crampon and ensures years of durability. Whether you're chasing corn 'o clock or traversing high icy alpine bowls, the Fritschi Xenic ski crampons are a reliable and functional choice that'll last for years and years to come.
Dynafit-style attachment points can be used across a wide range of bindings.
Aluminum construction keeps things light and cuts crucial weight.
Size
Weight
Measured Width
85mm
104g
85mm
95mm
105g
95mm
105mm
104g
105mm
Questions & Reviews
this might be a stupid question, but these sell as pairs, right?
Hey Joseph,
Yes, they do sell in pairs!
Answer this question:


Good day!
Could you please advise if the fritschi Xenic crampon 105mm will fit on 110 waist ski? The ski stop worked fine with tons of room, but I wonder if the 105 crampons are also as wide as ski stops to fit 110 waist ski?

Thank you in advance for your answer
Hey Olesya,
Thanks for the question! Sadly the 105mm crampon will not work with a 110mm ski. We've found that the best fitting crampon will be one that is the same width or better yet, 1-2mm wider.
You can check out our
Ski Crampon Compatibility article
to see what other crampons might work well with your binding & ski!
Answer this question:


Earn store credit by writing reviews. Learn more.

Model: Xenic Crampons