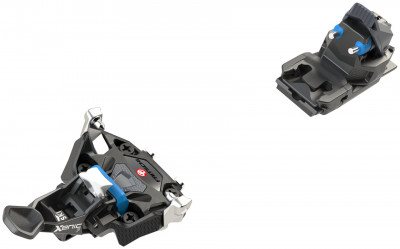 Fritschi Xenic 7 Binding
0 reviews
$449.95
In Stock & Ships Today
The Fritschi Xenic 7 is like a fairytale come to life.
"Why Xenic, what a unique toepiece you have!" All the better for entering and exiting the binding, my dear. Stepping into the Xenic 7 is almost brainless, a paddle between the toe wings activates the pins, meaning you don't have to fight the springs that keep your boot in just to get your boot in. The toe also has a bumper that, in ski mode, will release the toe wings when the boot pitches forward, guaranteeing that your ski will fully disconnect in case of a heel release in a fall or an avalanche.
"Why Xenic, what consistent release you have!" All the better for keeping you uninjured, my dear. Several factors help the Xenic 7 achieve consistent and accurate release. A gapless (1mm, technically) heel design with rearward elasticity means that the binding will travel with your boot as the ski flexes, yielding consistent release conditions and alpine-like feedback from the ski. Furthermore, fully adjustable lateral and vertical release settings allow you to set the binding to release exactly where you want it to. With a release value range of 3 to 7, the Xenic 7 is perfect for lighter skiers who don't want safety to come at the cost of functionality or quality.
Lower release range of 3-7 is perfect for lighter or smaller skiers.
"Gapless" 1mm heel gap lets the binding travel as the ski flexes for a more consistent release.
Step-in couldn't be easier thanks to paddle-activated toe wings.
Optional brakes are super reliable and straightforward to remove.
Both the lateral and vertical release are fully adjustable for greater safety.
Specifications
Weight
convert to ounces
285g
Weight (pair)
570g
Boot Compatibility
Tech
Brakes (mm)
85, 95, 105
BSL Adjustment
25mm
Riser Heights
1 + flat
Vertical Release
3-7
Lateral Release
3-7
Crampon Ready
Included Option
Specs Verified
Yes
Design
Materials
High-grade plastic, aluminum
Skimo Co Says
Usage
Touring
Notes
Stepping in is easier than ever thanks to paddle-activated toe wings
Bottom Line
A great low-tech option for kids or lighter skiers
Compare to other Lean Bindings
Questions & Reviews
Earn store credit by writing reviews. Learn more.

Model: FRITCHI XENIC 7 BINDINGS
MPN: BD101694
UPC: 7640132085457