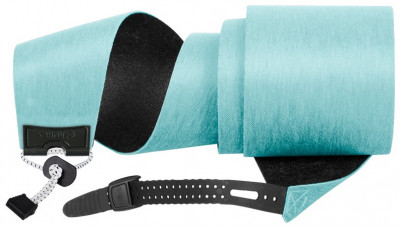 Kohla Performance Mohair Skin
0 reviews
$174.95
In Stock & Ships Today
Kohla made waves in the climbing skin world when they introduced their Smart Glue Technology several years ago. Not only could it be used in temperatures down to -22 Fahrenheit, but it was also incredibly easy to pull apart or off the base of a ski. With the Performance Mohair skin, Kohla took their revised Smart Glue formula, the smooth and fast gliding plush of their race skin, and cut it to 110mm wide. With excitement and vigor in their veins, they then added an in-house wax treatment, bungee tips, and an elastic tail clip. This exciting assortment of Kohla skin technologies has resulted in a race skin that can be used on wider-waisted skis. With Kohla's Performance Mohair skin, you can now rip, grip, and glide just like a race setup for your everyday touring skis.
100% Mohair race plush provides a smooth, almost effortless glide.
Smart Glue technology is reliable in cold temperatures while remaining easy to rip.
In-house wax treatment helps prevent glopping and promotes glide.
Waterproof skin construction keeps water away from the glue, allowing for more reliable adhesion.
Bungee tips and elastic tail straps increase reliability during long traverses.
110mm laser cut width will fit a majority of touring skis.
Questions & Reviews
Earn store credit by writing reviews. Learn more.

Model: 100% Mohair